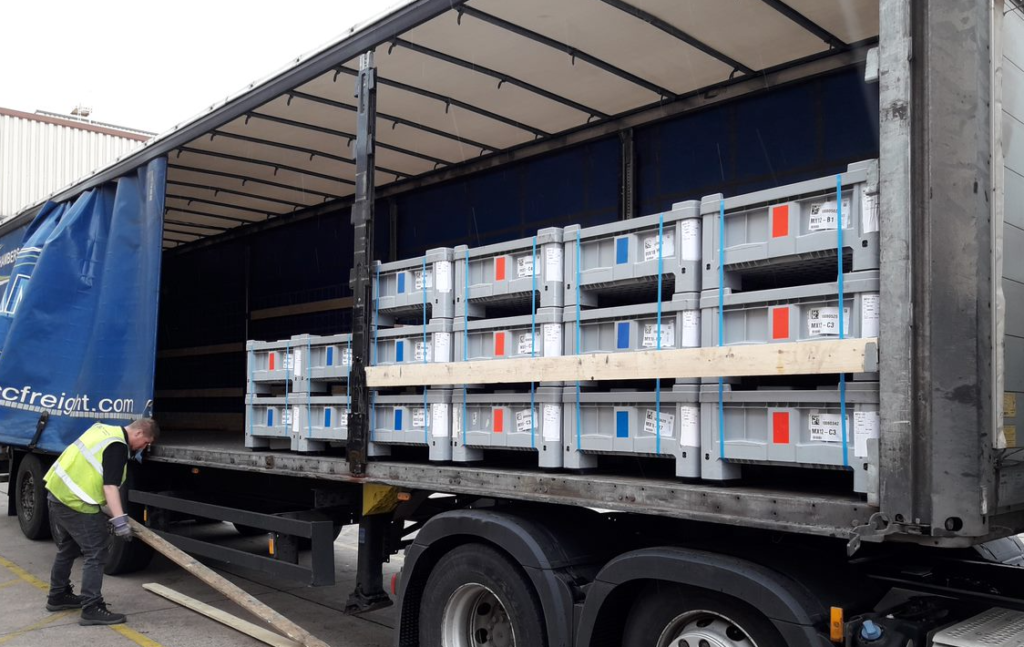 GOPLASTICPALLETS.COM has revealed details of its work with a manufacturer of construction and mining equipment, which was looking for a new pallet solution.
The firm revealed that the customer required a very shallow Euro sized pallet box and lid with an internal height no greater than 300mm. The box was needed to store and transport valve and hose fittings sent from the customer's valve supplier into the company's manufacturing site. To ensure product protection and high levels of QA compliance, Goplasticpallets.com said foam inserts were designed and fitted inside the box to protect the valves in transit.
Transporting the valves between the two sites in 'pristine' condition is essential to make sure the components are ready to be sequenced into the assembly of the finished product without delay. Once emptied, the box is inspected and returned to the component supplier ready to be reused.
Goplasticpallets.com recommended its GoPalletBox 1208LS 4F – described as a 'durable, rigid low height pallet box' on four feet with external dimensions of 1200mm (L) x 800mm (W) x 400mm (H).
Goplasticpallets.com said that replacing the customer's existing wooden pallets and collars with the GoPalletBox 1208LS 4F and lid solved 'several' challenges. "Firstly, nails, splinters and the inconsistencies inherent in wooden pallets and collars are no longer an issue and the plastic boxes can be easily cleaned, if required," the company stated. "Secondly, the switch to plastic means that the problem with fluctuating cost and availability of wood packaging is removed, as too is the timely hassle of disposing of wood and other associated packing. Finally, the design and structure of the plastic pallet box base allows for easy handling with forklifts and powered pallet trucks."
To help identify the type of insert and specification of the valve in each box, colour coded identification labels were added to all four sides, as well as asset labels, which are used to indicate whether the box is designated for use with a small or large valve.
Goplasticpallets.com added that just eight weeks passed from receiving the initial enquiry, through to all 550 plastic pallet boxes and lids being delivered to a site in Leicester.