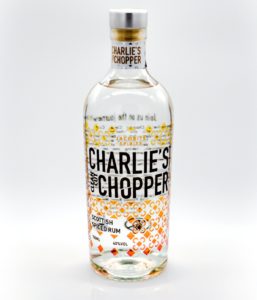 JACOBITE Spirits has launched its new spiced rum in what it says is a 'revolutionary' premium bottle.
The Glasgow-based distillery teamed up with O-I for the packaging of their latest tipple, Charlie's Chopper Clean Cut. Intent on keeping it local, the bottle is manufactured at the glass specialist's Alloa facility.
The bottle utilises O-I's EXPRESSIONS technology, which allows for there to be no label on the glass – with the printing instead being embossed, making it pleasingly tactile. Importantly to Jacobite Spirits, the bottle is 100% recyclable. The firm explained that no labels mean less waste, while UV curing means there's less energy consumption in the printing process.
Further to this, the bottle is made with 20% less glass than normal, and around 33% recycled glass – meaning it is not just lighter, but also less resource intensive and less energy intensive.
Jacobite Spirits said, "We believe that with great rum comes great responsibility. We're not quite saving the planet but our 'hero' Charlie is laying waste to unsustainable manufacture! Jacobite Spirits is a young company and we've tried our best to do things sustainably and source locally, but it's time to step it up. We can't just be talking about this or making minor gestures. Don't just say it, do it – that has to be our approach."