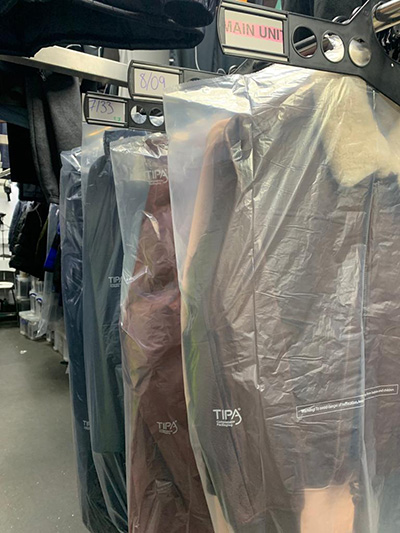 SIMPLY Stem, a supplier of sustainable products to film and television sets, has teamed up with compostable packaging supplier TIPA to provide garment bags for productions across the UK.
TIPA said that in just one production, thousands of disposable plastic garment bags can be used to protect costumes during filming. Due to the low recycling rate of polybags, these often end up in landfill or are incinerated once production wraps.
TIPA's compostable alternatives are designed to break down in compost conditions, leaving no microplastics or pollutants behind.
To ensure the bags are successfully composted at the end of their life, TIPA explained it is in the process of establishing a closed loop partnership between Simply Stem and Envar Composting, which operates green and food waste composting sites.
Simply Stem has supplied garment bags to productions in the UK that are making shows for the likes of the BBC, Netflix and Disney.
Founders Giles Barron and Charlotte Michel have worked in the TV and film industry for over a decade and – alongside garment bags – they supply compostable alternatives for cutlery, catering boxes and cups.
Charlotte Michel said, "Working in the industry, we have seen first hand the amount of waste that is produced throughout filming. We knew there had to be more sustainable alternatives to single-use plastic out there and that is why we started Simply Stem, to make them readily available to our colleagues and the industry we work in.
"Since January alone, orders for our compostable catering items have doubled and there is a clear demand from the industry for sustainable materials. TIPA's garment bags are the perfect addition to our product line-up as we seek to find innovative solutions for all departments on set. The feedback from costume teams has been great so far, and we look forward to working with more productions over the coming months."
Daphna Nissenbaum, co-founder and CEO of TIPA, added, "It's encouraging to see the entertainment industry seeking out plastic-free alternatives to reduce the impact that TV and film productions have on the environment. It is more important than ever that industries of this scale move away from unsustainable practices and single use plastic, and we've been so impressed by the work Simply Stem is doing to make this happen. TIPA's garment bags are a viable solution to the amount of plastic that is used in costume departments and we now hope to see compostable packaging become commonplace on set across the board."