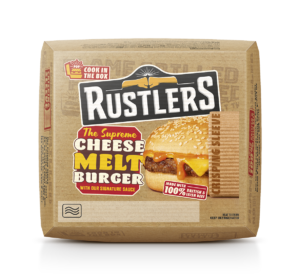 RUSTLERS, the chilled ready meals brand, has unveiled a new innovative packaging format that it describes as its 'most convenient solution yet'.
The cook in box concept allows consumers to heat a fully assembled burger without even opening the pack. Kepak Consumers Foods, the parent company of Rustlers, explained that the packaging performs a dual role in creating a protective barrier around the product, whilst also acting as a product carrier to enable easy consumption on the go.
The packaging also includes a 'micro-crisping sleeve', which has been developed to ensure the bun is perfectly cooked.
Monisha Singh, shopper marketing manager at Kepak Consumer Foods, commented, "Rustlers has been capitalising on consumer demand for great tasting convenient food solutions for many years and, with the brand growing 13% YoY, it's clear that demand for these products continues to be high. Our patented Cook in Box format enables us to go one step further and offer an innovative packaging solution for retailers in need of a low wastage, low cost approach to Food to Go, optimising their hot food offering in store.
"We're committed to developing incremental opportunities for us and our customers by providing convenient options that can be enjoyed in and out of the home."