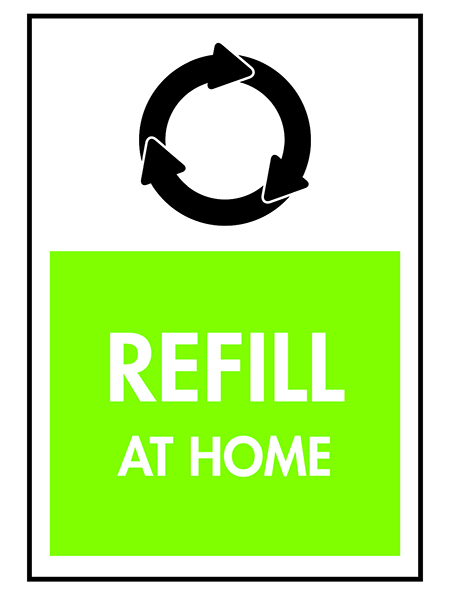 OPRL, which operates the On-Pack Recycling Label scheme used by over 530 companies and charities, is launching a new labelling range to support consumers in adopting new behaviours.
The new labels are designed to make clear which refill system applies and where and how the packaging should be refilled.
The labels are being made available immediately to existing OPRL members.
The three principal refill systems – using lightweight-packaged refills at home, bulk refill facilities in store or via a return system where the brand or retailer takes back packaging for cleaning and refilling – are reflected in the new labels.
Jane Bevis, chair of OPRL, said, "We're delighted to offer members this further labelling service as added value within their existing annual membership. The growth of refillable packaging is an exciting development as brands and retailers strive to reduce the impact of single use packaging.  Just as the move to greater recycling and recyclability led to the need for our original labels, we're certain that the major shift in consumer behaviour needed to make refill systems successful has to be underpinned by clear and consistent labelling which consumers can put their trust in."
Margaret Bates, executive director of OPRL, added, "Our extensive testing of these designs with over 5,000 consumers means we're confident they convey the information consumers need. For consumers 'Reuse' means any further use of packaging, from jam making to craft projects, so we were pleased to draw on Sheffield University's English Department's work in choosing the right terminology and then testing that.
"We're also very clear that the promise implied in the label must be assured, just as for our recycling labels. To qualify for the label the packaging must have been designed for reuse a minimum of ten times, with refill systems available to 75% of the UK population for a minimum of three years. Without this the opportunity for real environmental gains through reuse may not be realised. The packaging will also need to carry our recycling labels so that consumers know how to dispose of it properly once it can no longer be reused."
Libby Peake, head of resource policy at the Green Alliance, commented, "The conversation about single-use plastic is now rightly expanding to consider the wider implications of how we use materials and our throwaway society. As companies and their customers look to reduce the impact of packaging, it's clear that refillables have a major role to play. But these systems can only deliver the environmental benefits they promise if they are used as intended, which is why it's great news that OPRL has created these labels. These should make it much clearer to people what they need to do to help support a more resource efficient packaging system."