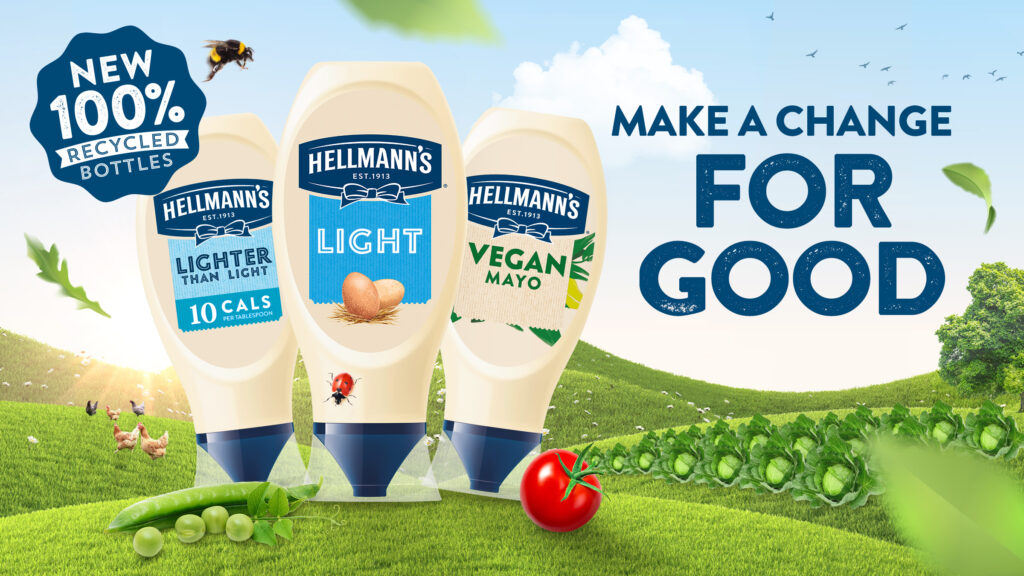 HELLMANN'S has announced it has started moving its full 'squeezy' range in the UK to bottles made with 100% post-consumer recycled PET plastic.
The Unilever brand said the move will save approximately 1,480 tonnes of virgin plastic every year once the full range has switched.
The new packaging has been made using food-grade standard recycled plastic and will feature a 'New 100% Recycled Bottle' logo on the front. 40% of the range has moved to the recycled plastic material already, with plans for the remainder to have switched by the end of 2022.
Increasing the use of recycled plastic in packaging forms part of Unilever's global packaging commitments, which include halving the company's use of virgin plastic as well as ensuring all its packaging is reusable, recyclable or compostable by 2025.
Andre Burger, VP of foods and refreshment for Unilever UK & Ireland, said, "At Hellmann's we believe food is too good to be wasted, and now we're helping to reduce plastic waste too. With our new 100% recycled plastic bottles, which are also fully recyclable, we're providing shoppers with an accessible and simple way to help make their households and mealtimes more sustainable – whilst continuing to enjoy the products they love.
"Our Hellmann's bottles are our first food brand in the UK to use 100% post-consumer recycled plastic, and whilst making the switch has not been without it's challenges, these learnings will enable us to accelerate the move of other Unilever food brands to using more recycled plastic too."