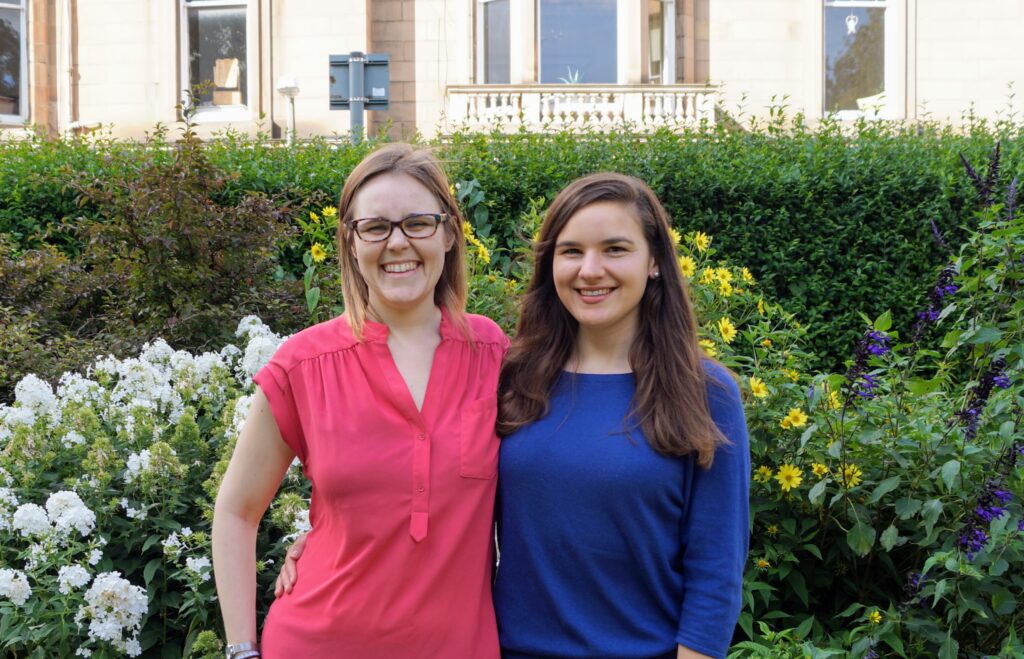 CLAIRE Rampen and Emily Rogers are behind Reath, a solution designed to give businesses a 'digital passport' to allow packaging to be safely reused.
Claire and Emily met when they were both students at the University of St Andrews about a decade ago. Frustrated that brands weren't offering more sustainable packaging solutions, they began reaching out to the brands of products they had in the cupboards, curious as to why they did not offer reusable packaging. 
The responses, by and large, blamed a lack of digital infrastructure. "After we got all the responses back, we realised that data was a really critical component, so we started designing a solution that gave every single piece of packaging its own ID which can be linked in the Cloud to see what exactly has been in that packaging," Claire told Packaging Scotland.
Claire explained the system can bring benefits beyond just simplifying and organising the process. With allergen regulations of critical importance, it allows businesses to have exact data on what has been in their packaging – meaning, for example, that gluten-free consumers can have peace of mind knowing their beer is in returnable bottles that have not previously been in contact with brews containing gluten.
Further to this is the reporting of waste. Currently, firms have to pay for the amount of packaging they put onto the market, and this will rise next year with the introduction of the new tax on biodegradable, compostable and standard plastic packaging containing less than 30% recycled content. A returnable system would see firms less impacted by this change.
The programme was embraced by the UK Research & Innovation (UKRI) department in the fight against Covid-19. The system was rejigged to support a trial of reusable PPE, co-designed with staff in the NHS. The system would allow the NHS to have data on how many times a reusable piece of equipment has been used, thus keeping reuse within manufacturers guidelines and ensuring no frontline worker used gear that may put them at risk.
Microsoft was next on board, backing Reath through its partnership with The Open Data Institute, which looks to support initiatives that address significant social, economic and environmental challenges.  
Realising a proper system had to be created, they got in touch with Glasgow-based tech firm, Happy Porch, which aims to provide assistance to organisations aiming to 'make the world a better place'. They then contacted White Rabbit Skincare – a cruelty-free beauty brand based in Kilmarnock which utilises returnable packaging. Its founder, Melanie Blane, answered questions on how its packaging operation works. This was repeated with several more companies until a blueprint of what the system should comprise of was created. Reath has also benefited from funding from Innovate UK to build an Open Data Standard for reusable packaging. After speaking with various companies, this time asking what information they would like to be captured in a packaging data system, the responses led to 37 fields being created which were then standardised. 
In the year-and-a-half that Reath has been operating, Claire said there have been many brands hungry to implement efficiency in their packaging systems. The Covid pandemic, however, resulted in the breakdown of a deal with one partner and also brought about short-term fears over the potential risks posed by reusable and returnable packaging. 
"Research is finding that British consumers care more about sustainable purchases than they did pre-pandemic," Claire said. 
"I think there was a bit of a wobble mid-pandemic when people were thinking: 'Is it going to live on my coffee cup?' 'Can I use reusable coffee cups in shops?' 
"I totally understand where those fears came from, but Zero Waste Scotland has done a lot of work demonstrating that this isn't the case and there's no study that can demonstrate that there's a risk." 
Claire said the plan for the year ahead is more fundraising to continue boosting the system, with hopes of large corporations coming on board. "The growth in this industry is huge," she said. "So, if any company is interested, I'd really emphasise that they look at this early and try and understand what customers want and they should know that, although there are logistical barriers to it and there is digital infrastructure that they'd need to invest in, it's absolutely overcomable. 
"I think we're going to see that the benefits will pay out when Extended Producer Responsibility comes out in the next few years."