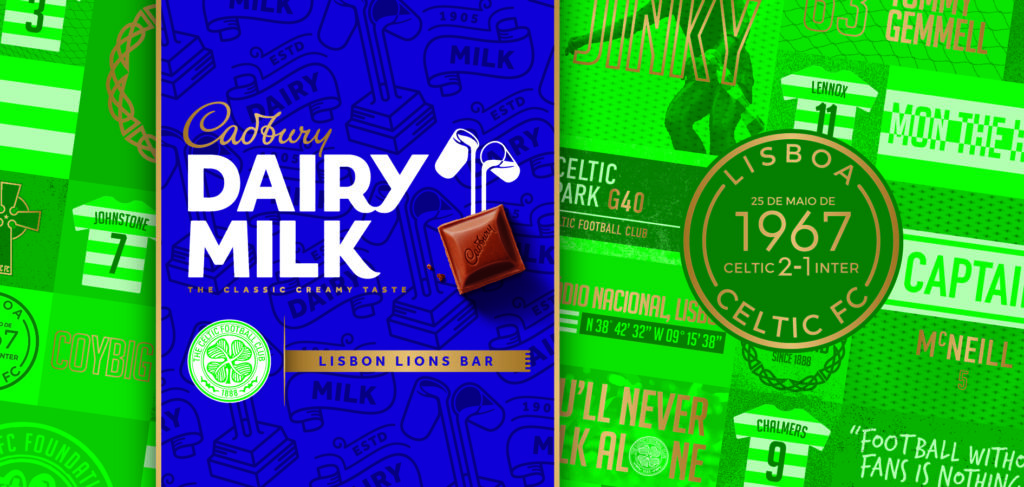 PACKAGING Scotland recently reported that Cadbury had launched a bespoke chocolate bar packaging celebrating Celtic FC's greatest triumph in lifting the European Cup in 1967.
Proceeds from sales of the bar are going to Celtic FC Foundation – the charitable arm of the club, whose Football for Good Fund (FFGF) was launched last March in response to the pandemic, to support those most in need. The fund has now risen to over £1 million.
Cadbury told Packaging Scotland of the close work it undertook with Celtic to develop packaging for the bar, which would appeal to supporters of all ages through the incorporation of various club nuances – from the shirts of the players who won the European Cup to lyrics from age old chants.
Speaking to Packaging Scotland, Tony Hamilton, chief executive of Celtic FC Foundation, said that the Cadbury link up is testament to the level of support already shown by various groups and individuals to the Foundation's work. He also revealed plans to continue aiding people across Glasgow and beyond through the FFGF.
"Moving forward, we're looking to continue to provide comfort to those who are most vulnerable through our partnerships with a host of wonderful organisations," he said. "Together, we are supplying vital food and essentials, addressing fuel poverty, and providing mental health support to those who need it most in Scotland, Ireland, the wider UK, and overseas.
"We're also working closely with the NHS once again, to show our support to incredible frontline staff. We're looking to create an area within Glasgow's Royal Infirmary where staff can go to get some respite from the daily stresses they are currently working under. Some of our usual project delivery is now beginning to get up and running again and we're hoping to reintroduce more projects as soon as it's safe to do so but for the meantime we'll focus on the FFGF for as long as it's needed, which certainly looks like at least the next few months."
To date, the FFGF has supported thousands of those who are most vulnerable, including some 18,953 families, 12,265 pensioners, 7,155 people facing homelessness, 1,600 primary school pupils and provided 11,000 hot meals and 17,000 hot drinks to frontline NHS staff. In addition, support was also provided through the Christmas Appeal phase of the FFGF to 376 families, 2,272 Glasgow children (gifts) and 976 families (hampers), 200 local pensioners, 10 children/family charity partners, three women's aid charity partners, 11 homeless charity partners and four refugee charity partners.