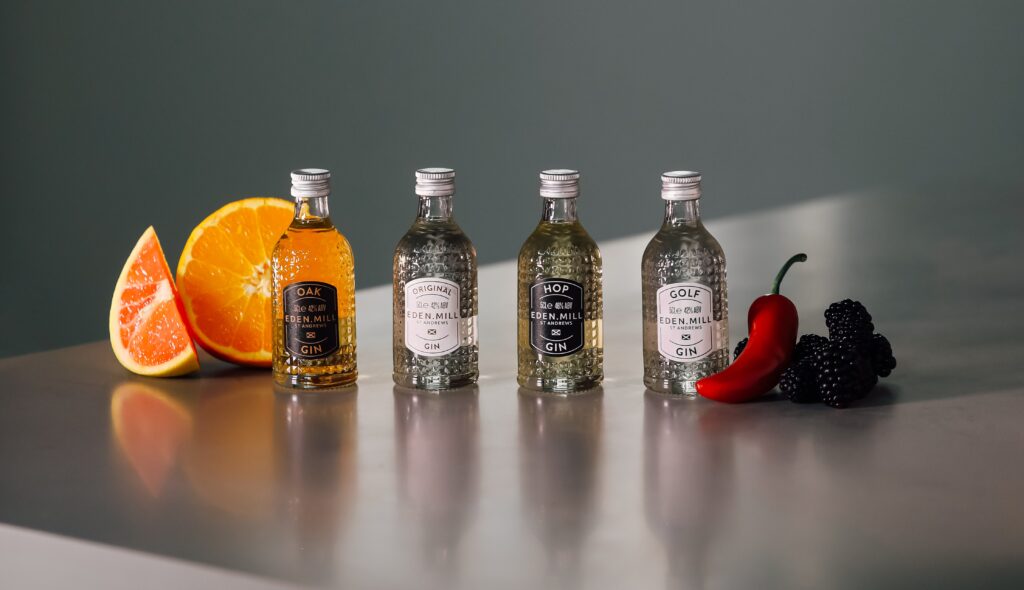 EDEN Mill has re-packaged its Love Gin miniatures range in 5cl glass bottles, created by Croxsons.
The move complements Eden Mill's existing 70cl and 50cl Love Gin bottles, launched last year. Available in different flavours, the miniatures are currently being used for two types of four-pack recyclable gift boxes, virtual tastings and seasonal promotions.
Eden Mill is Scotland's first single-site distillery and brewery, crafting gin, whisky and beer. Last year, the business opted to change the packaging of its pink Love Gin, from ceramic to glass, in response to trade and consumer feedback. The next phase was to change the existing miniature range, packaged in glass bottles with swing-stopper closures, to the new bespoke glass packaging.
In creating the miniatures, Croxsons revealed it ensured that the glass bottles retained the crystal cut dimple effect, maintaining ties to Eden Mill's heritage of St Andrews and golf and replicating the style of bottle previously used on the distillery site back in the 1800s. A metal ROPP closure finishes the look.
Tony Kelly, co-owner of Eden Mill, said, "Our original miniatures with swing-stopper closures looked great, but the manual labour of producing the miniatures in our old bottle format was so time consuming and labour intensive. With changes to our production capabilities, the miniature bottles now suit our bottling plant and help create supply chain efficiencies.
"Croxsons provided a glass packaging solution that fully extends across the Love Gin range. It not only helps reinforce our heritage in a striking and stylish way, it also provides some beneficial production and sustainability benefits. Customers love the look of them, and when going to purchase a full sized bottle they can see the link between the whole range. As it's a bespoke bottle, there is a wow factor when customers get our miniatures."