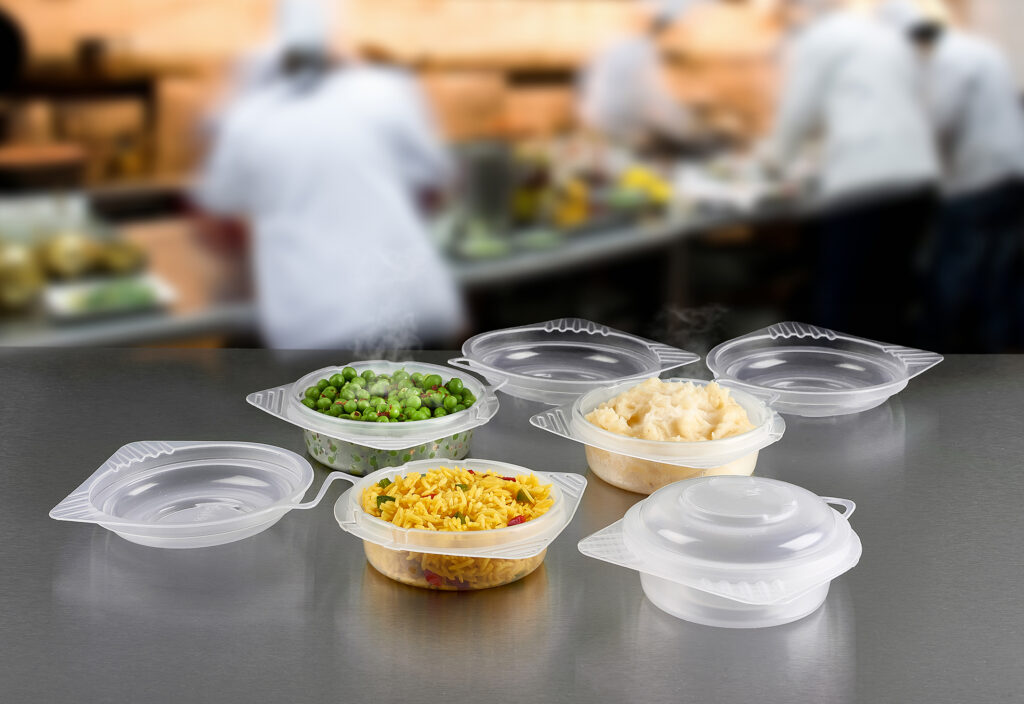 CELEBRATION Packaging has announced it is now offering customised and reusable microwavable hinged-lid food containers for back of house/kitchen food prep applications.
The containers are made from virgin polypropylene (PP) and can be sent for recycling.
Celebration Packaging MD Nick Burton said, "Before lockdown, some of our major high street foodservice customers were looking to move away for single-use disposable plastic packaging and find reusable solutions. They approached Celebration Packaging to discover what we could offer.
"Trials have been successfully concluded with two major high street foodservice businesses and we are proud to now announce the launch of a reusable, microwavable range which would provide a solution for pre-serve portion control in meal preparation."
The new products are made from high-clarity virgin PP. The packaging is delivered nested and stackable.
Both the rectangular and round containers have 200ml capacity, while a 400ml (deep) round container will soon be available. Custom shapes and sizes are also available, and the containers can be embossed with branding, subject to tooling charges.
Celebration added that the range is microwavable and the rectangular range features air vents in the sides and top lid to allow steam to escape when food is being microwaved. To make the products reusable, they are top-rack dishwasher-safe.
"Over the few past years, the mantra for those paying attention to environmental sustainability has been: 'reduce; recycle; reuse', but least attention has usually been paid to the reuse aspect," Nick Burton added. "This new food-grade PP hinged-lid container range delivers on all three priorities as it significantly reduces the amount of plastic used in busy kitchens, can be 100% recycled at the end of its life, and is reusable.
"Switching to reusables in high-traffic kitchens significantly reduces the amount of plastic being used when replacing single-use packaging. We calculated that one customer who uses the rectangular product is saving in excess of 30,000kgs of plastic per year by switching from their previous single-use container to the new reusable product."