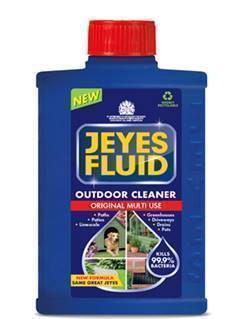 JEYES Fluid has announced it is launching a new recyclable plastic bottle.
The brand, which has been helping to keep gardens clean for over 140 years, said the revamped bottle – which replaces tin – will be kinder to the planet and can be used on more surfaces.
Founded in 1877, Jeyes Fluid was granted the Royal Warrant and has played a role in everything from sterilising trenches during World War 1 to reducing the spread of scarlet fever in the 1870s.
Looking to the future, Jeyes announced its heritage tin bottle has been replaced as part of its commitment to a more sustainable future. The new bottle is also lighter to reduce transport emissions and removes a layer of factory manufacturing and pollution.
The brown dye from the solution has been removed to ensure it can be used on all surfaces, including lighter ones, without staining them.
Charlotte Blampied, spokesperson for Jeyes, said, "As Jeyes Fluid moves into an exciting new era, we look forward to loyal customers enjoying this recyclable bottle, while it stays true to its heritage. Jeyes continues to be a trusted household cleaner by millions globally, a true testament to the quality of the product. We look forward to this continuing for another century, as the product evolves."