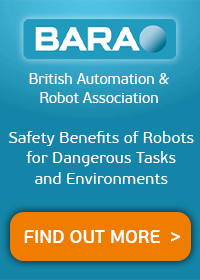 THE British Automation & Robot Association (BARA) has revealed its next virtual roundtable event will take place on March 16.
This follows a report from the International Federation of Robots (IFR), which shows robot density, particularly in Europe, has reached a new high with 2.7 million robots in factories globally.
BARA said the trend is reflected across the UK manufacturing sector too, which has seen demand for industrial and collaborative robots increase during the Covid-19 pandemic.
As robot manufacturers, suppliers and integrators adjust to calls for new applications and workplace solutions, BARA confirmed it has assembled a panel of association and industry experts to discuss the safety benefits of robots for dangerous tasks and environments.
Representatives from BARA, Jeremy Hadall (senior automation engineer/auditor) and Andrew Mason (sales manager, RARUK Automation), will be joined by Samuel Bouchard (CEO, Robotiq), John Glover (director, Glover Associated & Consulting), and Phil Scott (MD, FDC Automation), to discuss the safety aspects of industrial robots and answer questions.
You can now register here for this free-to-attend, 90-minute virtual BARA event.