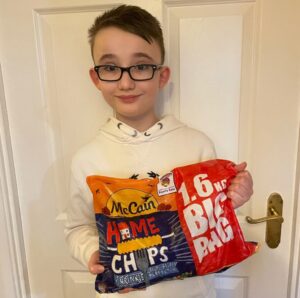 MCCAIN Foods has announced a £1 million pledge over the next three years to support the Family Fund's goal to provide 150,000 grants and services per year to families raising disabled or seriously ill children.
Alongside the pledge, the firm is also using its platforms to drive greater awareness of the Family Fund and its initiatives. This includes a nationwide Family Fund limited edition pack of McCain Home Chips, designed by competition winner Charlie Conway.
The ten year old has autism and a brain injury. He lives in Bradford with his parents who have been supported by the charity over the years. Charlie's mum, Katie, said, "Charlie needs a really high level of care and support and lockdown has been really challenging for us at times. We were once told Charlie would never be able to walk or talk – but he did, and his achievements never fail to amaze us.
"He was overjoyed when he saw his drawing has been chosen to appear on millions of McCain's special packs. As parents, we always try and focus on what he can do rather than what he can't and show him that we believe in him."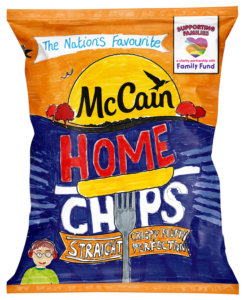 She continued, "Family Fund has brought so much to our lives – like granting us the equipment to be able to take Charlie safely on holiday. This kind of support can mean that disabled children have the same opportunities as the others. We are so proud of Charlie and we celebrate every little achievement he makes."
The partnership between McCain Foods and the Family Fund comes at a time where three in five families contacting the charity have seen their household costs increase as a result of the Covid-19 outbreak.
McCain Foods said that the grants will allow families to purchase essential items ranging from kitchen appliances to technology such as tablets and computers. Family Fund CEO, Cheryl Ward, said, "Raising a disabled or seriously ill child or young person costs around three times more than children without additional needs. Many parents become full time carers, often unable to work due to the need to provide higher levels of support, and what may be round the clock care.
"Parenting children with complex physical and emotional needs can be challenging, but families absolutely need and deserve the chance to enjoy the simple things in life – like coming together at mealtimes. This is why we are so thrilled to partner with McCain whose support will drive us towards our goal of providing 150,000 grants and services to vulnerable families."