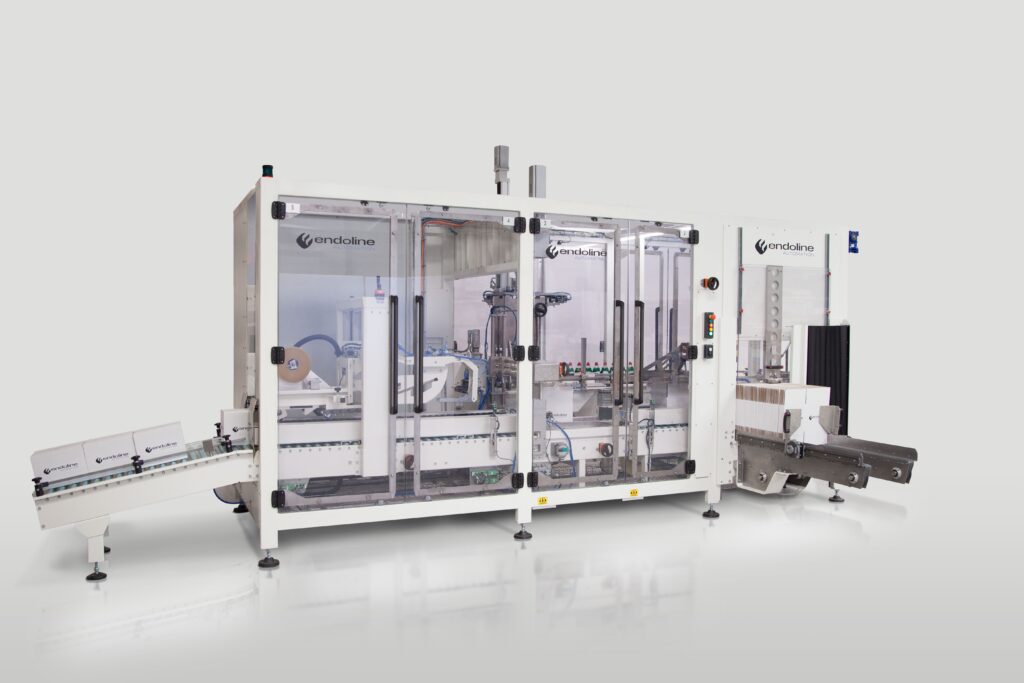 ENDOLINE Automation has launched a new system aimed at helping snack processors and packers to automate within compact spaces.
The Case Packer, which combines case erecting, packing, and sealing technology within one system, has been engineered to pack a range of different snack products including pouches of dried fruit and nuts, multi-bags of crisps and PET bottles of drinks.
Marketed as a cost effective alternative to installing three separate machines, Endoline described the product as a response to rising demand from snack manufacturers who are increasingly looking to automate their packing lines. 
Capable of handling at speeds of 12 cases per minute, the Case Packer receives single products from an infeed conveyor, groups them according to the programmed pattern on a loading platform, and then lowers them into a formed case below. The filled case is then automatically closed and sealed on the top and bottom with tape. 
The system can be customised to suit specific demands, and reprogrammed for the packing of different products, formats, and quantities. 
Endoline added that industry 4.0 compatible technology integrated within the Case Packer can capture and make data available for use in 'live' decision making scenarios.  
The compact design is beneficial for production areas with limited space.
Andrew Yates, sales director of Endoline Automation, said, "Endoline works with globally recognised food and beverage manufacturers, so we are aware of the increasing demand for fully automated systems which will increase efficiency, while taking up a reduced amount of floor space. 
"Snacks manufacturers in particular are seeking flexible systems which can handle different packaging materials. 
"We have re-engineered our case erectors and sealers to meet expectations for compact, flexible systems, but by incorporating case packing we are now able to offer a complete end of line solution."