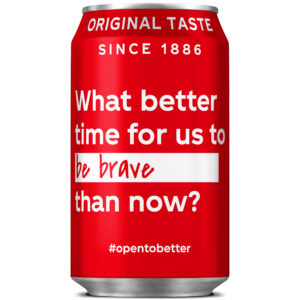 COCA-COLA has launched a new campaign to inspire people to embrace change and pledge to do things differently in 2021.
The Open to Better initiative will see packs of Coca-Cola featuring positive messages including, 'I will never take my friends for granted' and 'I promise to listen more, just for you'.
Consumers will also have the chance to create a personalised can featuring their own inspirational message, with Coca-Cola launching a new dedicated website for the campaign.
Bryony Lester, marketing manager at Coca-Cola Great Britain, said, "For more than 136 years, Coca-Cola has used its voice to help unite people across the world. We have launched the 'open' platform, a campaign highlighting how the world has changed and to appreciate what perhaps was previously taken for granted.
"In 2021, our ambition is to be 'open to better' and use the power of our packaging to share resolutions of hope and positivity that we hope fans will enjoy sharing with their friends and family."