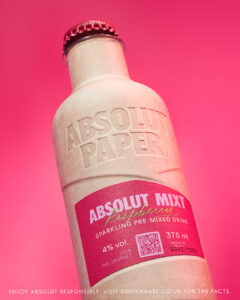 ABSOLUT Vodka has released a prototype part-paper bottle as it continues its sustainability pledge.
The firm said the prototype, rolled out initially in the UK and Sweden, is its first step to achieving a fully bio-based bottle. The brand will test 2,000 of the 57% paper and 43% recycled plastic bottles amongst consumers.
The project is a collaborative initiative with paper bottle specialists, Paboco. The two firms said that they seek to challenge the mindsets of both consumers and players across the spirits industry through the creational of a sustainable alternative to traditional methods of packaging.
In the UK, the trial will see Absolut Vodka partner with design-led and sustainability influencers to drive awareness of the prototypes on social media and offer consumers the chance to win a uniquely numbered paper bottle. The influencers are also being challenged to customise a bottle with their own design and create a unique limited-edition item for their followers to win.
Marnie Corrigan, brand director at Pernod Ricard UK, said, "Absolut understands the crucial role we must all play in having a positive impact on the environment. Lasting change takes time and the paper bottle explores alternative materials as part of our journey towards a sustainable future of packaging. In our passion for progression, we are proud to continue our long-standing support and collaboration with the creative industries through commissioning one-of-a-kind bottle designs from rising creatives from across the UK."