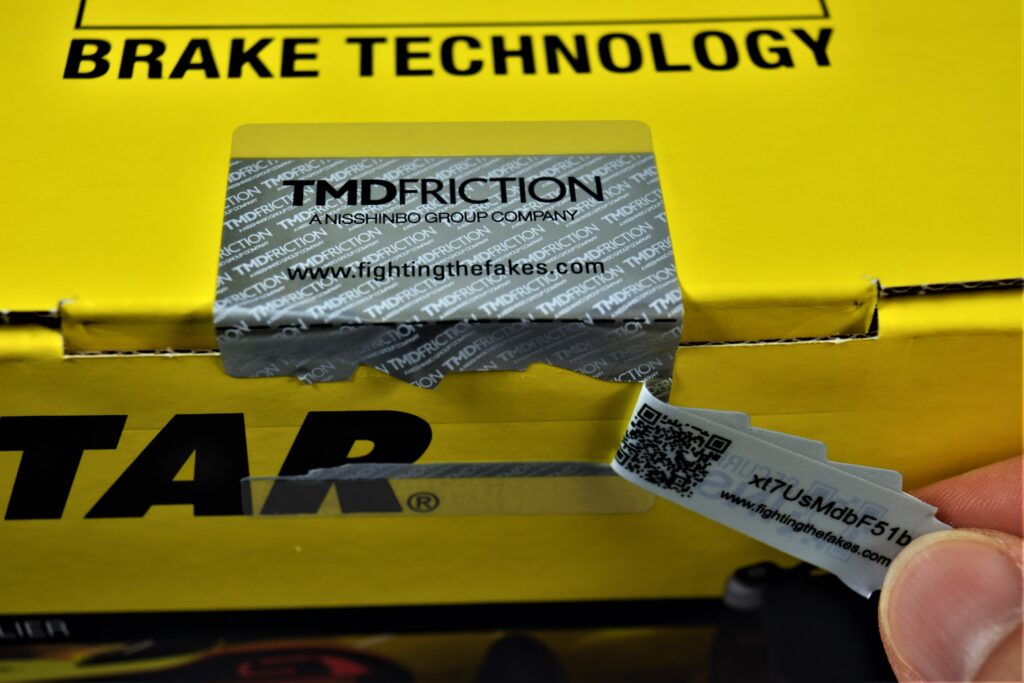 BRAKE technology specialist TMD Friction has incorporated a new tamper evident label from Eltronis onto its Textar brand parts, to help protect customers from counterfeit goods.
The PROriginal safety seal was designed with Eltronis from its enSeal range following discussions with TMD which had identified tamper evidence and authentication as being 'key' to its brand protection programme.
A label design was created which is visible on Textar boxes and signals that the contents are protected.
The label is placed over the top and side of the box and must be broken to access the part. A strip device helps users open the box and is said to provide effective tamper evidence. The removal of the strip also reveals a unique security code that enables verification of the Textar part.
Consumers are presented with both a QR code and a 12-digit alphanumeric code, both of which are uniquely linked to the product. Scanning the QR code using the Textar app or entering the 12 digit code into a dedicated website provides confirmation as to whether the part is genuine, and details the steps to take if it is identified as being fake or if the code has already been used.
Marco Loth, VP at TMD Friction, said, "Counterfeits are becoming an ever-greater threat in the brake industry. They often contain prohibited materials such as asbestos or do not offer the same performance or comfort as original brake pads. Poor brake performance can quickly lead to road traffic accidents and we therefore advise users to only fit brake pads by a trusted garage and to rely on brand quality, as this is the only way to have 100% confidence that the brakes will work when it really matters."
Pete Smallwood, business development manager for Eltronis, added, "We are increasingly seeing brands across many different sectors look at labels as a means to validate and protect their goods. Effective protection and authentication build confidence in a brand and enable it to stand out from the competition. It is great to see TMD work so hard to protect its customers and take a clear stand against product piracy, and we are delighted to deliver this practical and impactful solution."