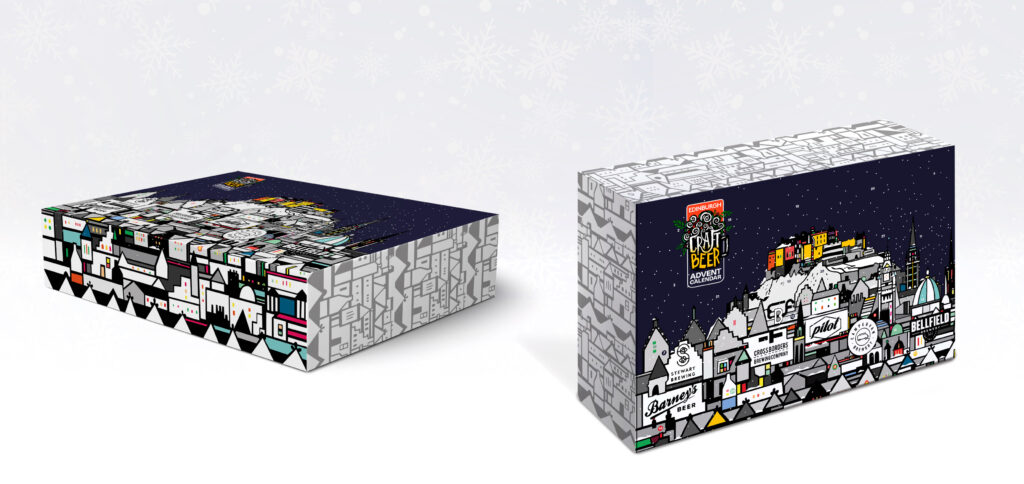 CORRUGATED packaging manufacturer Durham Box has revealed its new Nozomi single-pass LED inkjet digital press is being put through its paces in helping to support seasonal projects, including consumer packaging and a unique advent calendar for Edinburgh Beer.
Established at the start of the Covid-19 pandemic, Edinburgh Beer is a collaborative project that supports the city's craft breweries and raises funds for good causes. The initiative is based on the supply of beers from eight established Edinburgh craft breweries, which are then sold online in packs of 12 or 24 cans, as well as a 4-can cube pack. Purchasing beer from craft brewers in this way is said to trigger a fair price payment to the breweries, in addition to a £1 for charity for every box purchased.
With designs produced by an Edinburgh-based illustrator, Durham Box used the Nozomi press to provide a print solution for the beer packs. For the calendar, produced as a box to hold 24 cans, a coated B-flute board was used, with the substrate described as providing good protection with a high quality print finish and 100% recyclability.
The calendar design, which included colours and black and white areas, was subject to a one-pass layering effect by the Nozomi, giving the appearance of a spot varnish. For the calendar box construction, internal dividers were used for the cans to sit in, in addition to a tear cutting rule to give a 'clean and precise' opening experience.
Edinburgh Beer's founder, Ben Wallace, said, "We were seeking a print solution that could do justice to the designs and they (Durham Box) have exceeded our expectations with a superb print finish, coupled with the flexibility of multiple print versions and relative short runs for all the variations of packs and the calendar. Our thanks to local illustrator Susie Wright for creating the stunning design." 
Durham Box's regional sales manager, Paul Barker, added, "It was great fun working with Ben, who has 100 ideas at once, but a meticulous eye for detail! This is another great project showing the versatility, quality and impact of products produced through the Nozomi press."