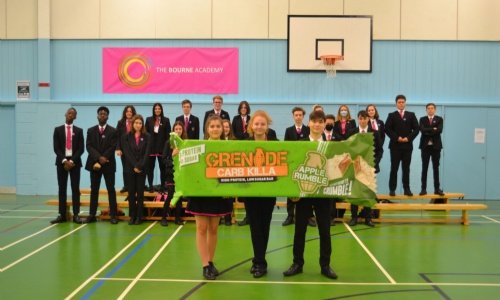 ONE of the UK's most popular nutrition brands has had the help of three school pupils in designing the packaging and branding for its new protein bar.
Students at The Bourne Academy in Lincolnshire helped Grenade design the flavour, wrapper and slogan for the firm's new Apple Rumble protein bar – which will be stocked by retailers such as Tesco and Holland and Barrett.
The design led to the trio being crowned winners of this year's key stage 4 National Enterprise Challenge. The initiative provides pupils aged 11-15 in the UK with real life business challenges – in this instance, the design of Grenade's new product.
The new Apple Rumble bar dubbed 'Applezilla' is a white chocolate covered apple crumble bar containing 20 grams of protein. The shiny green packaging features the slogan, 'Let's Get Ready to Crumble'.
A spokesperson from The Bourne Academy said that the feat could well act as a springboard for further success within the trio's future careers, with the prospect of a job at Grenade being touted.
Mrs Vicky Woodings, head of careers and enterprise at The Bourne Academy, added, "I am so proud of the resilience and hard work our students have shown during lockdown, to continue to develop their Grenade bar idea and create such a dynamic and professional advert and presentation.
"This is such a well deserved achievement."