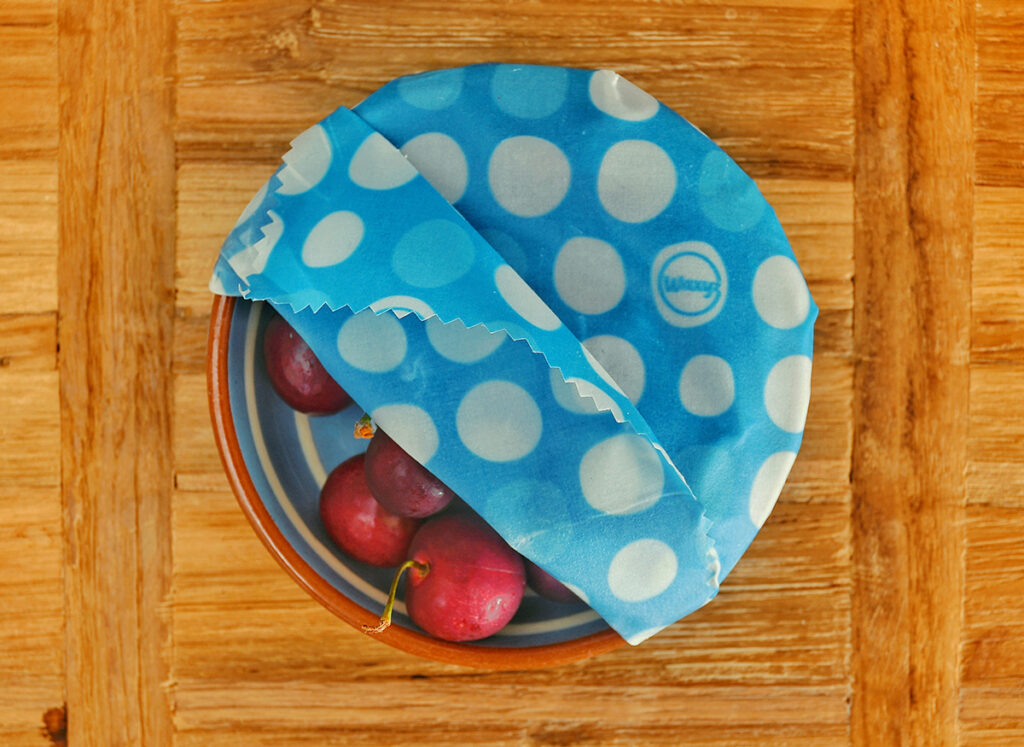 AFTER wrapping up a spot in Dundee's V&A, the Glasgow inventor behind a new sustainable food wrap product has set her sights on it becoming as much an everyday item as reusable water bottles.
Waxyz, a reusable product which looks to act as an eco-friendly alternative to clingfilm, is the work of Catriona Mann. Made from organic Indian cotton, the material is coated with a unique food and vegan-friendly wax which allows for the product to stick together and thus mould around food – without feeling sticky to touch.
After securing a deal for the product to be stocked in the V&A design museum, Catriona went on to sign a deal with the University of Glasgow to have branded Waxyz sold in the university's store – quite the big deal, given she is a graduate of Glasgow School of Art, which is an accredited institute of the University of Glasgow.
"As a Glasgow School of Art graduate to find myself with a product in the V&A, that's amazing," she told Packaging Scotland. "Honestly, I can't emphasise it enough, the moment I delivered them to the V&A I thought 'little old me has got something in the V&A' – it was just unbelievable, and also to be working with the University of Glasgow – it's a thing that I never, ever in my wildest dreams thought would happen."
Describing herself as a 'beach girl at heart', Catriona insists that she is no eco-warrior – just a big believer in that everyone doing a 'little bit' to help our natural environment will eventually lead to big results.
Keen to have the product made in Britain, she earmarked Halley Stevensons of Dundee to wax the product. Initially, the 156-year-old textiles company wasn't keen. They had tried to make a similar product with another firm using bees wax, and it had proven to be a tricky and unsuccessful process. Catriona managed to initiate a face-to-face meeting and was able to convince the firm to work together and with their expertise and support Waxyz were created.
"Waxyz are made in Scotland, which is really exciting," she said. "Because I make it with Halley Stevensons of Dundee, who are a world leading wax coating company, we can scale the volume overnight. Because I'm using a third party to do my waxing, and I have a brilliant relationship with them, I can produce thousands of metres of it tomorrow – it's not that I need to scale my side of the business to achieve that, and that's absolutely unique – nobody else can do that."
Catriona explained how the set up means that relatively short run prints can be initiated, which allows the likes of the University of Glasgow to trial a short run of the product before deciding whether or not to order it on a large scale.
The actual science behind Waxyz is a tightly wrapped secret. Catriona would only let Packaging Scotland in on the basics of coating, which is a food grade hydrocarbon wax. The waxes are natural and non-toxic and allow for the product to be biodegradable – but also washable and reusable for up to a year.
Catriona believes the product is perfect for delis, cheese shops, sandwiches and food outlets that package their food in disposable food wraps. 
Her long-term vision is to have Waxyz supplying such outlets, and also to be as much of an everyday item as a reusable coffee cup or water bottle.
"It would be fair to say it's a new idea, it's still very much a niche product but I'm working towards making it mainstream," she added.