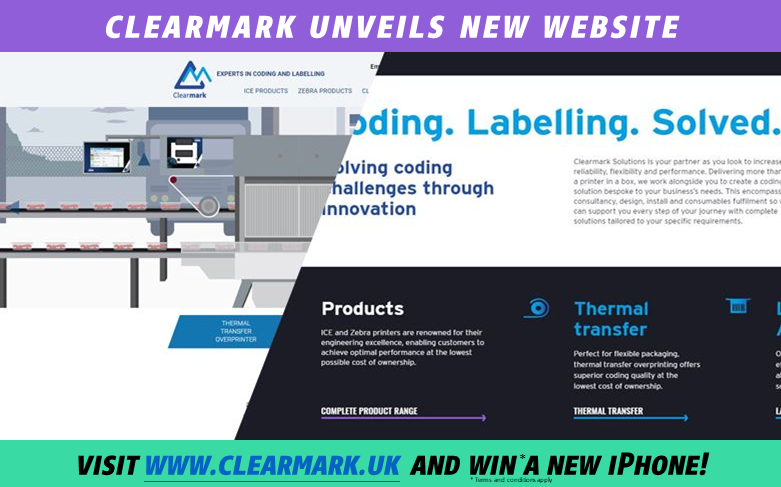 This article contains paid-for content created in collaboration with Clearmark Solutions Ltd.
Clearmark Solutions Ltd, leading UK based coding and labelling solutions provider of ICE and Zebra coding equipment, has recently launched their new and improved website – www.clearmark.uk
Clearmark's new site showcases innovation and puts a greater focus on the company's consultancy and partnership approach to working on tailored projects, helping customers achieve what may have once felt unachievable with other coding suppliers.
The new website contains an ever-growing resource hub containing technical guides, topical industry content, high-quality videos, the recently launched virtual demonstration room, and more.
Visitors will find a new and improved format with detailed product listings making information clearer and more user friendly.
The new site has a polished and professional new look with a technological focus and has been designed with the users in mind. It is easy to navigate with a streamlined customer journey enabling users to find useful content quickly.
The launch day (01.10.20) falls in line with what would have been this year's PPMA show now replaced with the digital online PPMA Meeting Hub.
As part of the new website launch, Clearmark is holding a competition for throughout October. The competition will require users to hunt for QR codes hidden within the website, to reveal an anagram. All entrants who crack the code will be in with the chance of winning an iPhone 12 soon after launch.
Chris Simpson, Managing Technical Director at Clearmark said, "After several months in the making I am extremely pleased with the outcome of the new site and think customers and visitors will benefit greatly from the increased speed and streamlined design, not to mention the useful content, from demonstration videos to topical industry articles and more."
Make sure you visit www.clearmark.uk during October to be in with a chance of winning an iPhone 12!
Follow Clearmark on LinkedIn or Twitter @ClearmarkCoding to receive extra clues for the competition.