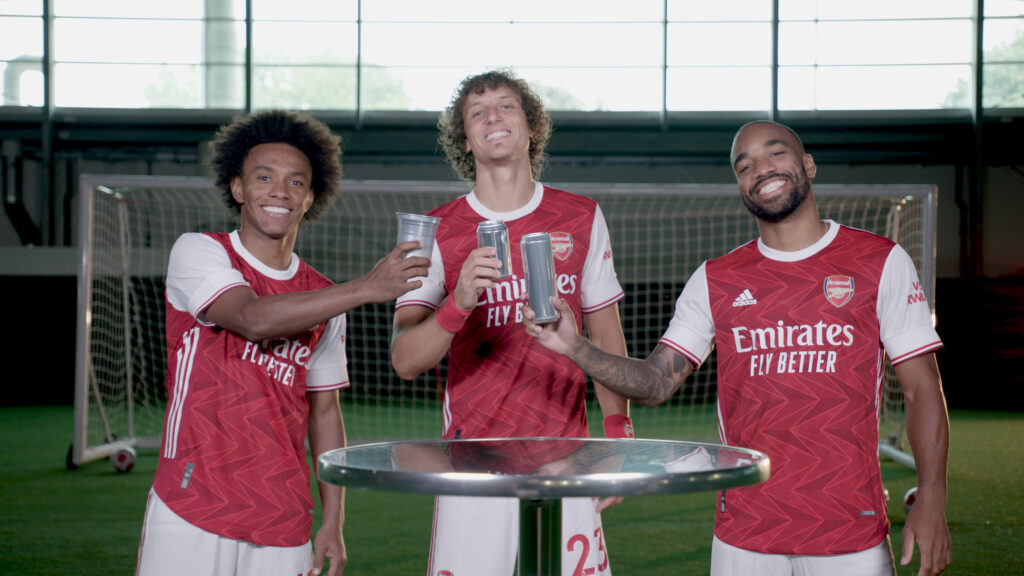 ARSENAL Football Club and aluminium packaging company Ball Corporation have teamed up to help the club and its fans reduce their impact on the environment.
In a 2019 study by the BBC and the UN-backed Sport Positive Summit, Arsenal topped the league table on sustainability among English Premier League clubs. Now, Arsenal and Ball Corporation will work together to look at how the club can use aluminium packaging to build on the sustainability practices already employed.
The parties involved will also use player access and digital communications, including in the stadium, to promote the importance of recycling.
The partnership is part of a global agreement between Arsenal's owners Kroenke Sports & Entertainment (KSE) and Ball Corporation, which has been established to advance sustainability in sports and entertainment, and raise awareness of sustainable beverage packaging at sports venues.
Arsenal joins a list of KSE teams to partner with Ball which includes the NBA's Denver Nuggets, NHL's Colorado Avalanche, NLL's Colorado Mammoth and NFL's Los Angeles Rams.
Peter Silverstone, commercial director at Arsenal, said , "This is the start of an exciting journey between Arsenal and Ball Corporation. Underpinned by cutting-edge technology and a strong belief in the power of education, sustainability is a core pillar of Ball Corporation's business. They have a great track record in this space and the global agreement with the KSE group – which includes a Premier League club with its global reach and engagement – shows their understanding of the power of football and a commitment to making a difference across sport. We see a lot of synergies between Ball and Arsenal that will help us drive this partnership forward and help make sustainable thinking normal practice for our global community.
"Arsenal is committed to leading the way on sustainability among Premier League clubs. Every generation is significantly more environmentally aware than the last and the power and reach of the Arsenal badge gives us the opportunity to provide real leadership on this issue. Purpose-led partnerships will become even more of a focus as we move forward and we're proud to have an incredible partner on board to help us inspire and empower our community across the world to take action to reduce our environmental impact and push each other towards a sustainable future."
John Hayes, Ball's CEO, added, "We're thrilled that our global partnership with KSE to advance sustainability in sports and entertainment includes teaming up with Arsenal. This is a unique opportunity to both bring aluminium beverage packaging into sports venues and partner with an iconic team that is already leading the way on sustainability. We look forward to working together to offer fans more sustainable in-venue options and raise awareness for the importance of aluminium recycling."