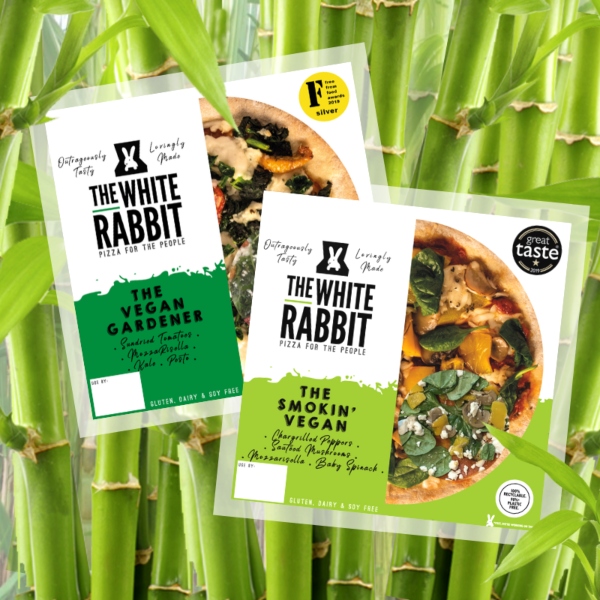 YORKSHIRE Packaging Systems (YPS) has announced that The White Rabbit Pizza Co has adopted the firm's B-NAT bio-based shrink film to package its range of authentic Italian pizzas and stone-baked bases.
The White Rabbit specialise in creating 'alternative' pizzas including vegetarian, vegan, gluten-free, soy-free and dairy-free creations. The firm has won Great Taste and PAPA awards, as well as deals with major UK supermarkets and health food stores.
YPS explained that White Rabbit was searching for an eco-friendly wrap that would avoid waste by keeping the food fresh for longer. The B-NAT bio-sourced shrink film is described as a polyolefin comprised of more than 40% sugarcane ethylene. This renewable by-product of normal sugarcane production is, YPS said, 'ethically cultivated and fully recyclable', yet delivers 'impressive optics and high shrinkage' to achieve a 'well protected and presented' pizza.
Following successful film trials on The White Rabbit's existing shrink wrapping lines, the company placed its first order for film within months and it was rolled out in stores earlier this year.
YPS added that The White Rabbit team, through switching to B-NAT from traditional polymer shrink films, has calculated that it will save roughly 18,700kg of CO2 emissions each year.
Matteo Ferrari, co-founder at The White Rabbit Pizza Co said, "We're always looking for ways to make our packaging more environmentally friendly. We use cardboard pizza discs instead of polystyrene and fully recyclable cardboard boxes, so the sugarcane plastic is totally in keeping with our ethos and mission to be greener.
"Yorkshire Packaging Systems carried out several expert trials to make sure B-NAT was perfect for our pizzas and always deliver our orders next day to keep us running smoothly. We are really pleased with the results and the service."