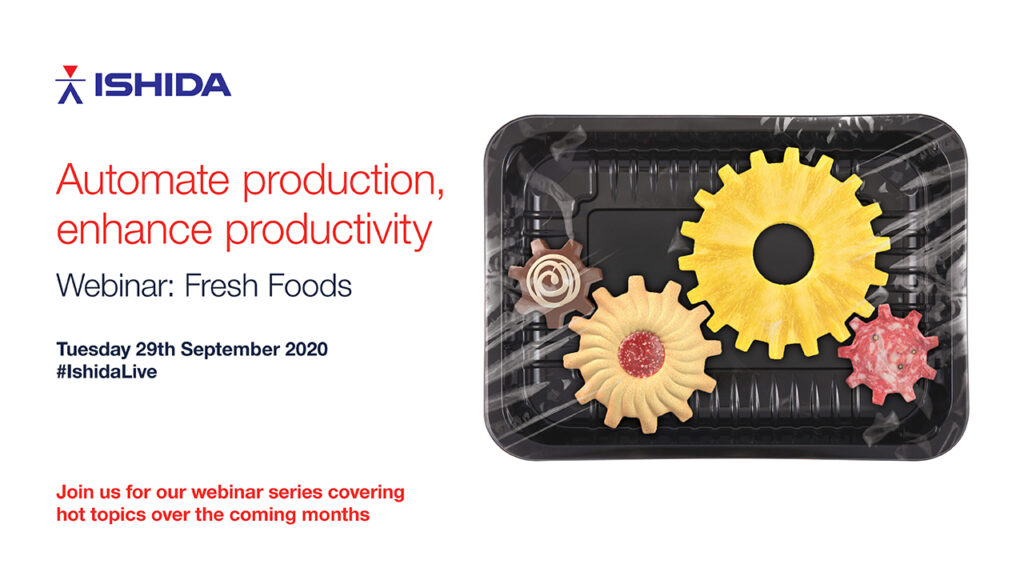 ISHIDA Europe is poised to host a series of live webinars to highlight the latest automation opportunities and discuss current trends in the food industry, including challenges brought about by the Covid-19 pandemic.
Entitled 'Automate Production, Enhance Productivity', four separate webinars will take place throughout the autumn, each focusing on a particular area: fresh food packing, weighing; inspection; and snacks packing.
The first event, covering fresh food packing, will be held on Tuesday 29th September at 10am.
The webinars will feature a panel of Ishida automation experts and focus on key areas of importance for the topic under discussion. The manufacturer explained that the overarching themes will include the need to enhance efficiencies, productivity and throughput to maximise profitability, while ensuring brand integrity and delivering sustainability benefits such as a reduction in food waste.
All of the webinars will be followed by a Q&A session with audience participation.
Steve Jones, Ishida Europe's marketing director said, "The Ishida Live: Automate Production, Enhance Productivity event series provides a valuable opportunity for the company to interact with its customers and prospects at a time when exhibitions have been postponed and face to face meetings have become more challenging due to social distancing requirements. We have devised this special live event series to be able to engage with people in a format that we hope will be interesting, informative and mutually beneficial."
For further details and to register for the first webinar, visit https://event.on24.com/wcc/r/2612201/2B0E6DFC38C7098FB3088122D38CBB98?partnerref=pressrelease