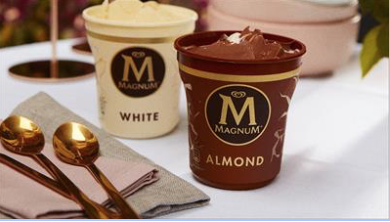 UNILEVER has announced that by the end of 2020 all Magnum ice cream tubs in Europe will be made from recycled polypropylene plastic (rPP).
Last year, the firm rolled out the recycled tubs in the Netherlands, Belgium and Spain with more than seven million set to be introduced across other European countries this year and from 2021 onwards the packs will be rolled out globally.
Unilever said that the advanced recycling technology that makes the packs possible transforms previously unrecyclable plastic waste into a valuable resource, with the rPP waste being able to be reprocessed infinitely.
The firm continued by revealing that over 160,000 kilograms of recycled plastic will be used to produce the new packs for sale across Europe.
The new tubs have been developed in collaboration with chemical manufacturing firm, SABIC. The company developed the new polypropylene impact copolymer for frozen food packaging. The material uses post-consumer mixed plastic as feedstock which is broken down into its molecular building blocks to create virgin plastics which are then used to produce the tubs.
Julien Barraux, global VP for Magnum, said, "We are proud to be one of the world's first ice cream brands to pioneer this groundbreaking technology. Through this new approach, we hope to lead the food and refreshment industry towards a more sustainable future, paving the way to a circular economy. These days, consumers – rightly – expect all packaging to be sustainable. By keeping our plastic material in the loop, we are contributing to a healthier planet and preventing plastic pollution.
"With more in-home consumption due to Covid-19, the introduction of these tubs and their reduced impact on the environment becomes even more relevant as the world prepares for a new future."