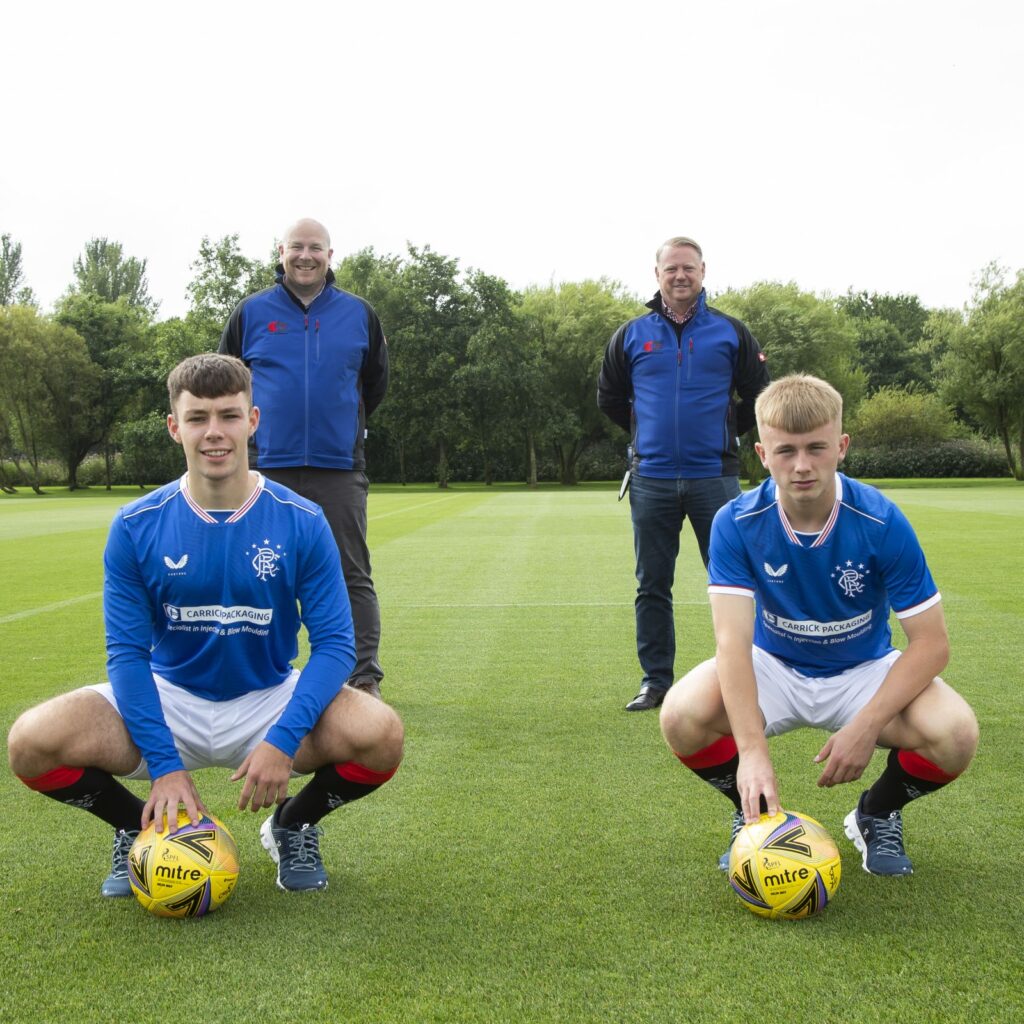 RANGERS Football Club has announced that Carrick Packaging will continue as the official partner of the club's academy and 'B' teams for the 2020/21 season.
The Glasgow-based firm, which manufactures steel drums, IATA cans and plastic containers, will be displayed on the front of all academy and 'B' team jerseys. The company will also continue to have a 'significant' presence at both the training ground and Ibrox stadium, Rangers added.
Rangers' head of academy, Craig Mulholland, commented, "We are delighted that Carrick Packaging have agreed to become our main Academy partner for a further year. As a company, Carrick are also committed to developing young people and therefore their values and objectives align perfectly with our own here at Rangers Academy. John and Derek from Carrick became more than simply a partner last year and attended many of the games all over the UK and abroad in our exciting runs in the UEFA Youth League and SPFL Challenge Cup, and I know they enjoyed, as we do, seeing the development and growth of our talent in some really diverse and challenging environments.
"The ongoing support from Carrick Packaging is important as it allows us to continue to be aspirational in our approach to developing talent with projects such as our 'best v best' games programmes. Initiatives such as these mean a player like Nathan Patterson is not playing against top European players for the first time when he plays in the 1st team in the last 16 of the Europa League against Bayern Leverkusen, but instead he has been exposed to players such as that and everything that is associated with an away European trip as part of a carefully designed plan through his Academy years, making him much more equipped for the challenge. The support of Carrick Packaging helps us achieve this.
"We look forward to working closely with Carrick Packaging in the coming year and sharing in the education of more talented young people. We are grateful for their ongoing support and personal commitment to our ambitious project."
Managing director of Carrick Packaging, John Jordan, added, "Carrick Packaging are proud to continue our partnership with the Rangers Academy for another season. We have been made to feel truly welcome behind the scenes and it has been a pleasure to be involved with the club.
"Watching the young players develop and learn to express themselves against a variety of challenges is a truly rewarding experience. From technical challenges posed in the Uefa Youth League to the different physical and tactical challenges faced in Challenge Cup, the players learned something about the game and about themselves from each one of these matches.
"Carrick Packaging have always been keen to support young talent. Whilst players like Lewis Mayo and Nathan Patterson have graduated to the first team squad this season at Rangers, one of our own young stars, Cameron Kirkwood, has graduated with a First Class Honours in his Engineering Management degree which he has completed whilst working full time at Carrick Packaging.
"We believe that showing faith in youth and providing the right training, education and support is a key element to a sustained successful future for both Rangers and for Carrick Packaging."