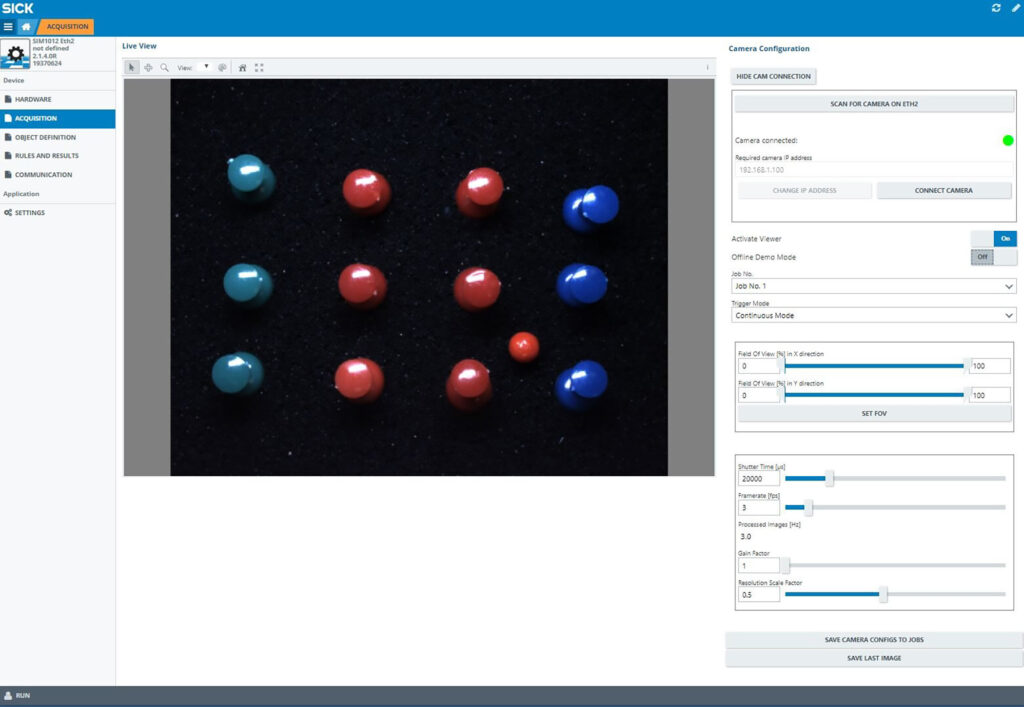 SICK has launched its new Colour Inspection and Sorting App, described as a 'cost-saving and simple' solution for common inline quality control tasks in automated production and packaging applications.
The SICK Colour Inspection and Sorting SensorApp is based on the SICK Picocam or midiCam 2D streaming cameras. It is the first to be integrated with a choice of SICK Sensor Integration Machines as well as providing LED illumination and a photoelectric sensor.
The Colour and Sorting SensorApp can be used to check that goods, assemblies or packs on a conveyor are the right size or colour. It can also count objects with different sizes and colours as well as validate the correct colour or colour gradations. Objects with anomalies can be identified for rejection.
Neil Sandhu, SICK's UK product manager for imaging, measurement and ranging said, "The Colour and Sorting SensorApp is the latest ready-made solution to be developed by SICK in our AppSpace software framework and reflects a trend for SICK to provide more packaged hardware and software kits that solve common machine vision tasks.
"The app comes with all the instructions you need for a really simple set-up. It can be customised to meet individual needs and to extend the application with additional sensor and actuators, as required.  The field of view can be adjusted by choosing from a range of camera resolutions and lenses and the ambient conditions of your production environment can simply be matched to the correct level of illumination.
"The easy-to-use solution includes everything you need for the camera set-up, together with step-by-step instructions to teach-in the inspection. In the graphical user interface, the object colour can be matched by using the colour scale or by simply inputting the colour pigment. Object sizes are easily defined by minimum and maximum pixel values. A demo mode is included with example images to show the principle of operation in simple terms."
The SensorApp is designed to work with the SICK SIM4000, SIM1012 or SIM1004 Sensor Integration Machines, as appropriate for the application.