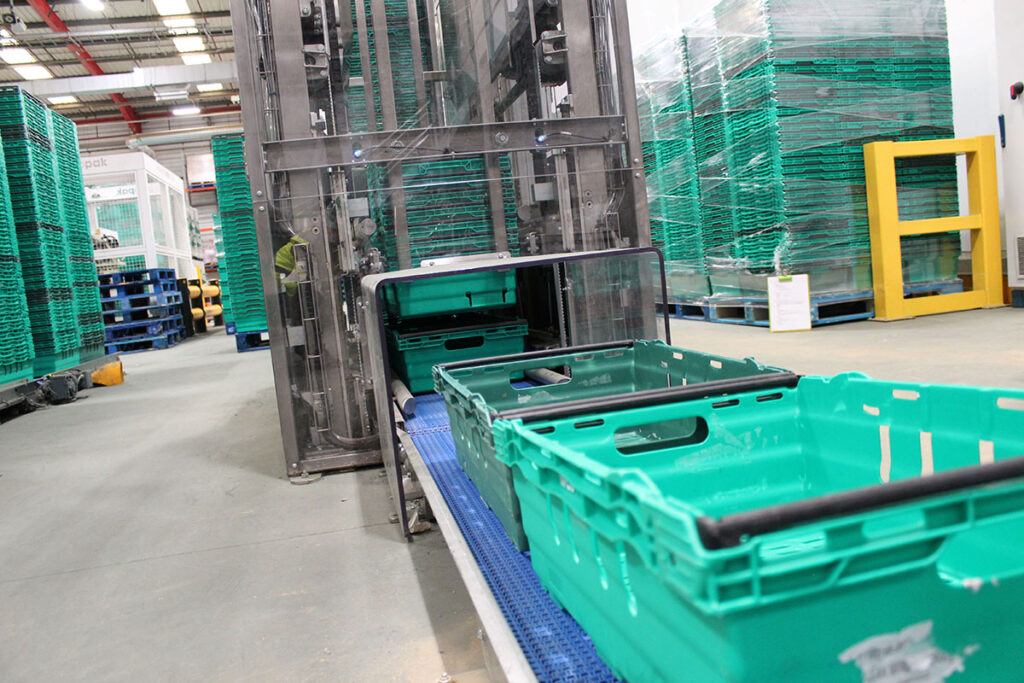 BRILLOPAK has announced the launch of the Dual Crate DESTAKer for feeding empty retail crates to food packing lines at high speed.
Based on the same operating principle as the original Crate DESTAKer system, the new model destacks two stacks simultaneously, which the manufacturer stated enables handling of 18 crates per minute and servicing of 'multiple' packing lines.
The Crate DESTAKers are employed in packing facilities for food products such as fresh fruit, meat, baked goods and pizzas. Rather than picking up the entire stack and relying on gravity to despatch the bottom crate, the Crate DESTAKers clamps the bottom crate down, lifts the rest of the stack up, and then despatches the bottom crate.
The Crate DESTAKer uses pneumatic clamps to grip both the bottom crate and the upper section of the stack. The upper clamp is powered by two servo motors, which lift the crates up to enable the bottom crate to be moved out of the stack and indexed into the downstream automated crate packing system. Brillopak explained that the use of servo motors makes the destacking system 'infinitely adjustable' because the operator can change between crate sizes, change the speed at which the system accelerates and decelerates and alter the height to which the stack is lifted.
Peter Newman, technical director at Brillopak said, "Food packing operations rarely give much consideration to the crate destacking operation, but the design of this system can have an important bearing on overall line efficiency. If crates get stuck together, the line might have to be halted and operators will have to intervene to manually separate them before packing can continue. Large packing halls with multiple lines in particular will reap the efficiency rewards of a more flexible crate destacking operation."