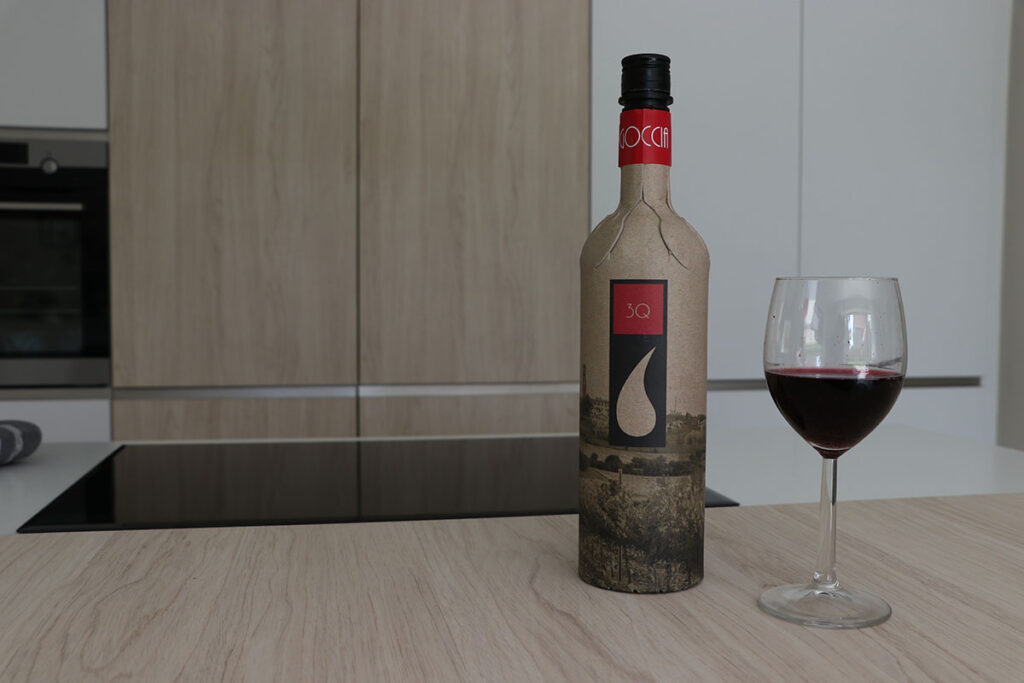 A new paper wine bottle has been launched, which has been described as the biggest innovation for wine and spirits since the launch of the glass bottle.
The 75cl Frugal Bottle is made from 94% recycled paperboard with a food-grade liner to hold the wine or spirit. It can be refrigerated.
The product is the brainchild of sustainable packaging firm Frugalpac, which creates and supplies recycled paper-based products. The Frugal Bottles are made at Frugalpac's facility in Ipswich.
The first wine to go on sale in the bottle is from the Italian vineyard Cantina Goccia. 3Q is an unwooded Sangiovese red with a hint of Merlot and Cabernet Sauvignon.
The Frugal Bottle weighs just 83g, so is significantly lighter than a normal glass bottle. An independent Life Cycle Analysis by Intertek found the product has a carbon footprint up to six times lower than a glass bottle and more than a third less than a bottle made from 100% recycled plastic. The bottle is also easy to recycle again and, because it is made from recycled paperboard, it allows for 360-degree branding across the bottle.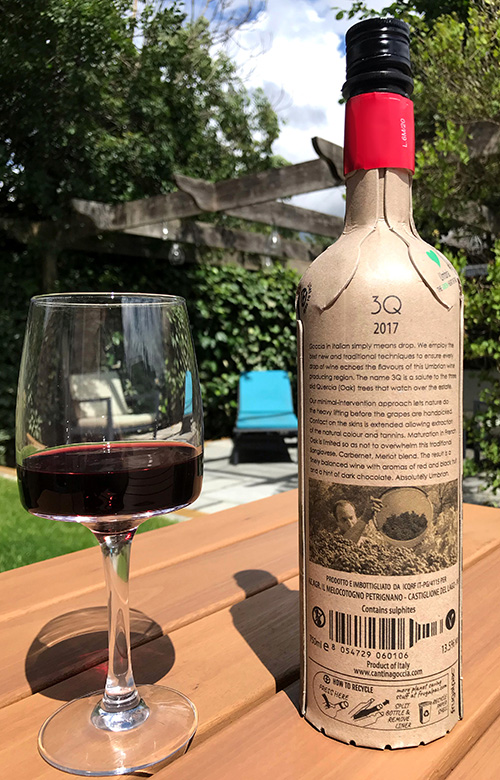 The Cantina Goccia Frugal Bottle will initially be available to buy online from www.cantinagoccia.com and in Scotland from Woodwinters Wines & Whiskies retail stores and online.
Frugalpac revealed the bottle is also under active consideration by a number of supermarket chains and hospitality groups and will be available from other retail outlets over the next few weeks. The Frugal Bottle can also be used for sprits such as gin, vodka and rum.
Frugalpac chief executive Malcolm Waugh said, "Our mission is to design, develop and supply sustainable packaging. The Frugal Bottle is up to five times lighter than a glass bottle, has a carbon footprint up to six times lower and is easy to recycle again. We've had fantastic feedback from people who've trialled the Frugal Bottle. As well as the superior environmental benefits, it looks and feels like no other bottle you have ever seen.
"We want to deliver great wine and spirits in innovative packaging whilst helping our customers and consumers reduce their impact on the environment. The Frugal Bottle offers a major point of difference for the global wine and spirits sector through stand out design and positive sustainable benefits. Frugalpac's business model is to supply Frugal Bottle machines for wine producers or packaging companies to manufacture the bottles on their site, cutting carbon emissions even further. Materials can be purchased locally through existing paperboard printers to give maximum freedom of design and the best commercial offering."
Cantina Goccia owner Ceri Parke added, "We're delighted to be making history with the most sustainable wine bottle in the world. For us, the Frugal Bottle is about achieving a considerably more sustainable form of packaging for an industry crying out for innovation. It will help us decarbonise the drinks industry. When some of our top hotel customers saw samples of our paper wine bottle, there was no hesitation in their minds that this type of bottle would be well received in their dining rooms. The launch of the Frugal Bottle is a big leap in sustainability without compromising wine quality.
"It's much lighter than glass, easier to transport and friendlier to the planet. Just as important, our wine still tastes as wonderful in a paper bottle as it does in glass. We passionately believe this is a real game changer for the wine industry, allowing us to sell and transport our award-winning wines in a much more sustainable way whilst still providing a beautiful bottle."
Douglas Wood, founder, Woodwinters Wines and Whiskies, the Cantina Goccia Frugal Bottle launch supplier commented, "Woodwinters' team and customers are huge fans of the delicious wines of Cantina Goccia. Innovation in sustainability at all stages of wine's journey from vineyard to glass is something that we believe is hugely important. We are, therefore, obviously very excited to support the availability of one of our favourite wines in this new format with all its potentially great positive environmental impact."