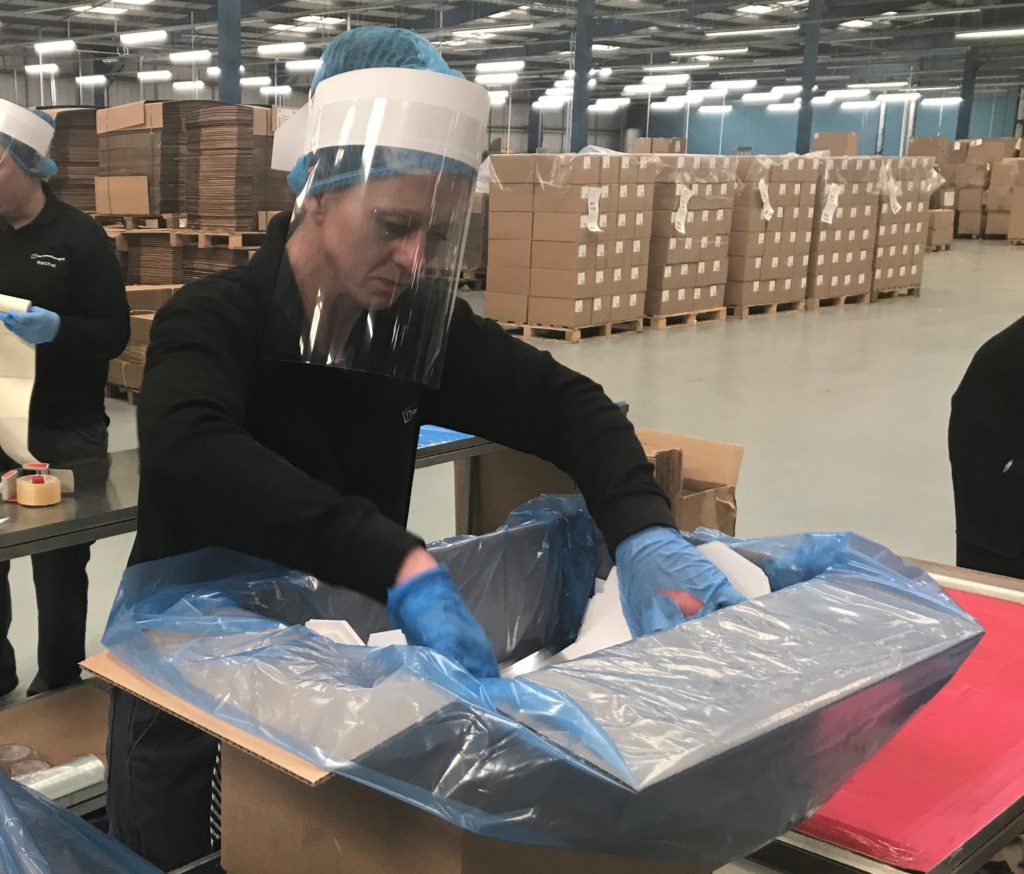 TRANSCEND Packaging has revealed it is in talks to provide visors to Japan and the USA after the firm switched production from straws to face shields to be used by frontline staff as well to support employees returning to the workplace following the Covid-19 lockdown.
The company, which is known for producing paper straws for quick service restaurants, has converted operations at its Ystrad Mynach manufacturing base to create protective face shields. Made from reinforced paper boards and recyclable materials, the visors are designed for single-use and to be recycled.
With support from Life Sciences Hub Wales, Transcend explained it has been able to ensure products meet all standards required for use by NHS Wales, frontline and key workers. Nearly three million of the shields have already been manufactured, with products distributed in the UK and across Europe. The firm is now in talks to supply Japan and the US.
The change in production follows Transcend participating in an online event, hosted by Life Sciences Hub Wales in conjunction with NHS Wales Shared Services Partnership, which explored how to correctly manufacture PPE in order to supply NHS Wales, explaining the certification requirements and procurement processes involved.
So far, face shields have entered directly into either NHS Wales or the UK Department of Health and Social Care agencies. Transcend is also supplying councils, care homes, retailers and factories.
The company added that as businesses and facilities reopen, the shields could be used by employees in office settings as well as patients attending doctors' surgeries, staff in customer facing roles, as well as by individuals visiting friends and family, particularly within care homes.
Lorenzo Angelucci, MD at Transcend Packaging said, "Transcend is a proud part of the Welsh business community and when the Covid-19 outbreak began we saw the critical need for personal protective equipment and wanted to do what we could to help. We quickly realised that we could adapt our digital printing equipment to create face shields and with the help and guidance of Life Sciences Hub Wales, we were able perfect the design and produce products that were fully certified and met the right standards.
"When it came to designing the shields, we thought carefully about the needs of today and those of the foreseeable future. Frontline services are of course a priority right now, but in the months to come, once restrictions are lifted and businesses resume their operations, other people will require protection. We wanted to create a product that could be used across the population. Our face shields are an effective, inexpensive CE marked alternative to other PPE items and provide an extra level of protection that is suitable for medical settings, employees returning to work and the general public as they go about their daily lives and see loved ones."