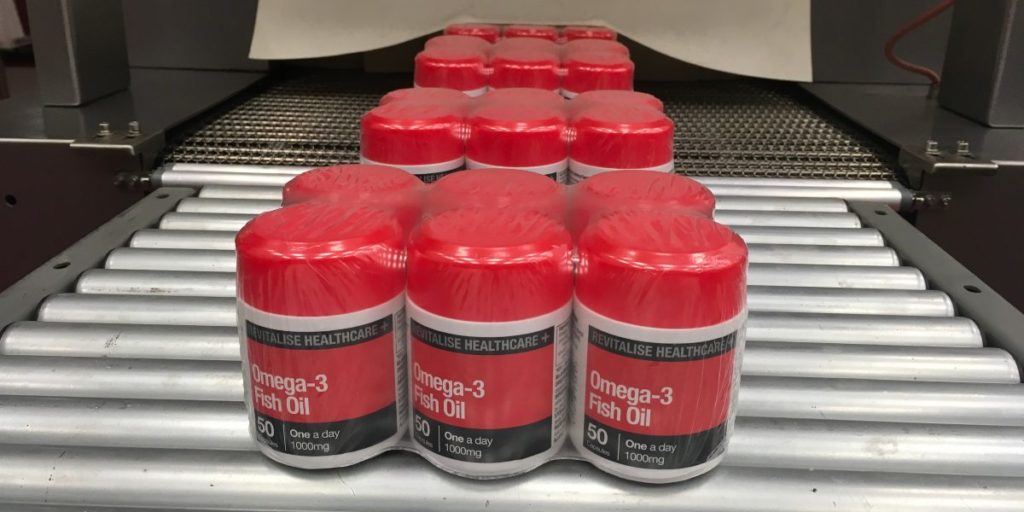 ADVERTORIAL
Yorkshire Packaging Systems, the UK's foremost supplier of shrink wrapping equipment, are pleased to share their latest installation success following the commissioning of a shrink wrapping line into Health Innovation's Skipton-based manufacturing facility.
Health Innovations UK Ltd are an industry-leading healthcare manufacturer and producer of nutritional supplements and vitamins. Their product range comprises of chewable, hard, coated and uncoated tablets, as well as gel capsules and melts in tubs and cartons. Health Innovations tailor-make and formulate products for many suppliers in the pharmaceutical industry and indeed supply some national supermarkets as well as independent chemists.
As a result of considerable and ongoing growth in recent years, culminating in a new GMP facility due to be finished at the end of 2019, Health Innovations looked in Q1 this year to increase their packaging capacity. Although the company already own a sleeve wrapping solution from YPS, it was only suitable for wrapping products in trays. With more and more of Health Innovation's customers looking to reduce overall packaging by removing excess cardboard trays from their goods, any new equipment needed to be able to wrap both trayed and trayless formations. Health Innovations returned to YPS to deliver an upgraded machine that offered the complete flexibility they needed.
Installed in March 2019, the new SVA60-35 fully automatic side feed sleeve wrapper and TR65-100 shrink tunnel from YPS met all of Health Innovation's requirements and has been running smoothly for six months. Specially modified to include full collation hardware, the new line accommodates both trayed and trayless packs at speed in national multiples of 2×3, 2×4 and 2×5.
As a result of Healthcare Innovation's new packaging investment, they have benefitted from increased flexibility, improved capacity and enhanced customer satisfaction due to the ability to meet all demands. Several new contracts have been won since the addition. Furthermore, YPS included a comprehensive service contract with the new wrapping line that was extended to cover the existing equipment, for complete peace of mind and full preventative maintenance.
"We've enjoyed brilliant service from YPS for many years now and so when we needed new shrink wrapping machines I did not hesitate to build on our relationship once again. The new sleeve wrapper has opened up new opportunities for Health Innovations at an exciting time when we are growing and expanding." – Health Innovations.
Glyn Johnson, M.D. at Yorkshire Packaging Systems added, "Health Innovations have been a much-valued customer of ours for many years – I'm delighted that we could play a part in their ongoing success once again by delivering a best-in-class product with best-in-class service and ultimately a best-in-class solution."