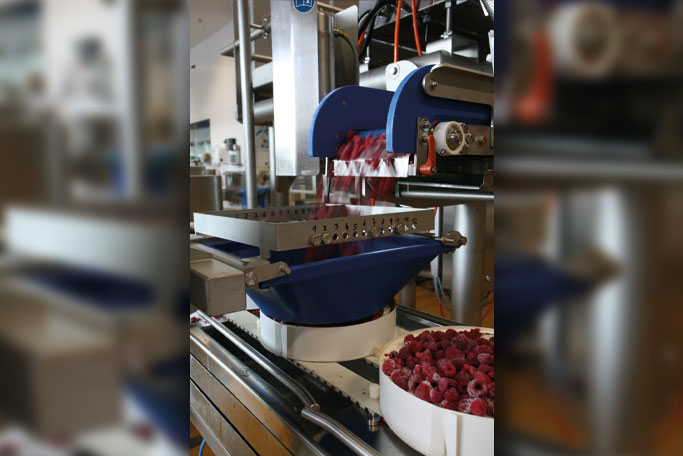 A German cake manufacturer is using Ishida technology for precision dosing of fruit toppings and to meet quality standards
Pfalzgraf Konditorei has installed an Ishida 6-head linear multihead weigher, DACS-G checkweigher and an IX-GA-4075 x-ray inspection system.
The 6-head Fresh Food Weigher (FFW) was developed by Ishida for sticky fresh products and smaller production batches. Product is delivered via a conveyor belt to the top of the weigher.
An operator distributes the fruit via six belt feeders to the weigh hoppers, and can visually inspect the fruit at the same time. Once weighed, the fruit portions are filled directly onto the tortes and cakes through a small filling system.
Pfalzgraf Konditorei handles a wide range of products on the FFW in a two-shift operation. The baked goods are topped with raspberries, strawberries, forest fruits, mandarins and fruit mixtures. The fill weights range from 240g to 2,500g, with a maximum speed of 16 cycles per minute.
Production manager Stephan Koller said, "The old volumetric dosing method placed 20 to 30g too much fruit on each product. Now, overfilling is practically zero."
At the end of the production line, the Ishida DACS-G checkweigher checks the packed cakes to ensure compliance with regional weigh directives.
The operator can switch between two weight ranges at the touch of a button. In case of external disturbances, a Ishida-patented Force Dislocating Limiter (DFL) automatically disconnects the weighing sensor from the weigh belt.
The Ishida IX-GA 4075 x-ray inspection system has been installed as the final station on the line. The system detects foreign bodies with a diameter of less than1 mm.