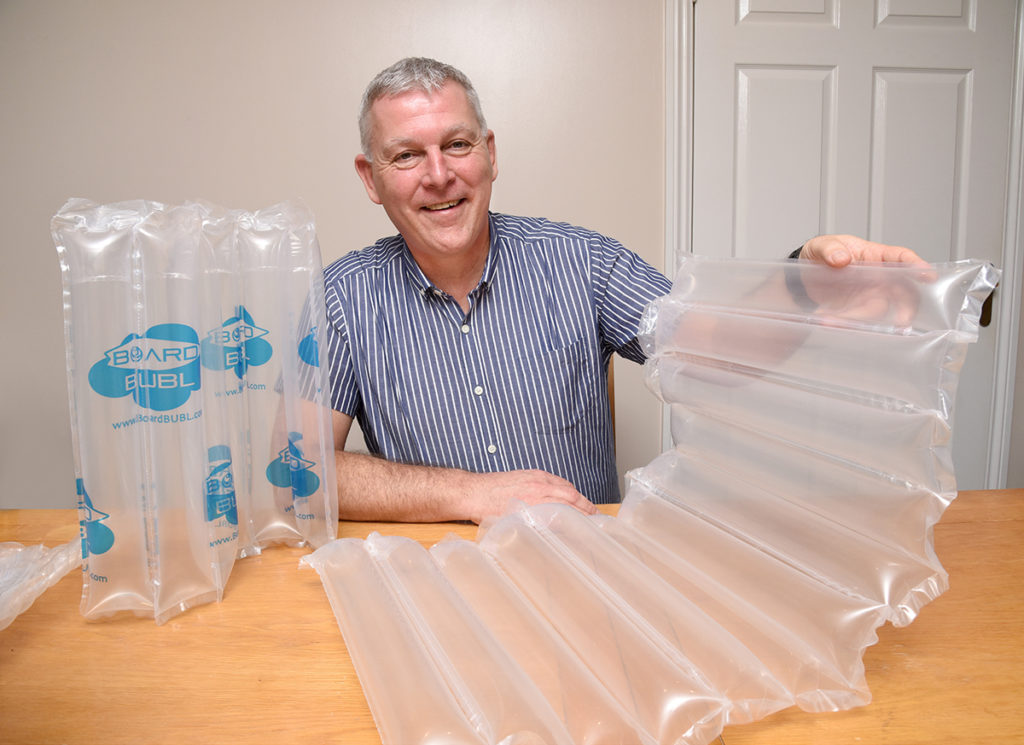 A Scottish protective packaging specialist has launched a new product which is helping businesses avoid transit damage when shipping heavy duty goods such as toilet cisterns, sinks and radiators.
BUBL Tubes enclose the products in air-filled tubes. They can either be inflated manually using compressed air or by using the firm's auto-inflation system.
The tubes can be customised by length, diameter and film thickness and are marketed as an alternative to the likes of EPS, cardboard spacers and polystyrene blocks and pellets.
Ross Woodburn, MD of BUBL Packaging, told Packaging Scotland, "They are specifically designed for really difficult products. We've got customers using these already, including one in the UK who supplies bathroom equipment. Those items are not fragile by any manner of means but they're really difficult to ship without getting damaged. In a lot of cases, they're maybe outside on a building site and getting moved around without a lot of care.
"You end up with six centimetres of air cushioned all the way around. They're designed to take a fair bit of weight without popping. It also has a lot of environmental benefits. There's virtually no plastic in it; it's really light; it's recyclable. These are waterproof as well. Customers who have switched to it really like it. Feedback has been fantastic. It tends to be higher value products."
Since launching BUBL Packaging in 2015, Ross and co-founder John Penman have introduced a wide range of inflatable products to the marketplace.
The business started out with one product – the BUBL Bag – which works by creating a cushion of air so that products of varying sizes such as mobile phones and light bulbs float in a bubble of air and are protected.
That, and all the company's other products, are manufactured in China because no UK business was prepared to take the risk of producing them initially. 
Ross said, "It didn't happen overnight. We set up the company in 2015 with an idea but didn't have an actual manufactured product. The BUBL Bag has a two-way valve which has a fair bit of technology in it that makes it seal and makes it quite expensive to produce."
After securing funding from Scottish EDGE, Ross set out to find a partner company to turn the idea into reality.
"We spent a lot of time looking for a company in Scotland," Ross added. "We were doing this off our own back and didn't want to set up a factory. We couldn't find anybody. We tried a wider search and couldn't find anybody in the UK, so eventually we started contacting foreign companies. We had a lot of interest from China. We went out there to look at various companies and they were much more amenable to a partnership where they would invest to help us make prototypes without charging us, on the basis that if we got a product working, they would get the business. We managed to find a partner who has turned out to be a brilliant partner. We're still with the same company that did the first prototype."
As more products have been added to the portfolio – including pods, cases and wrapping – the business has predominantly started selling its goods through distributors. 
Long before sustainability became the hot topic it is today in the packaging sector, BUBL Packaging was inadvertently ahead of the game as the BUBL Bag is essentially three products in one, minimising the use of material and being completely reusable. Ross admits they probably didn't capitalise on the environmental benefits in the early days as much as they could have. Instead, the main focus was to build a business that was scalable.
"Right from the very start, we have always had an eye on exit," he said. "We wanted to make it easy to acquire and have the right sort of infrastructure so that we could scale it, but also so it would be easy for someone to take in. 
"We are a 'virtual' company almost. We have a manufacturer we're contracted with in China that can make all of our products for us. We've got a warehouse in Galashiels that handles our stockholding. A company in Stirling does our graphics. Another one looks after our website. Although we don't have lots of employees, indirectly we do. 
"The contract manufacturer we're working with can literally double the output at very short notice so we know we can fulfil orders. If we get an opportunity, we can capitalise on it. We've got a solid IT platform so we can place orders electronically."
Next on the agenda for BUBL will be the launch of at least one new product in 2020, the addition of more distributors and making a bigger impact into the European market.