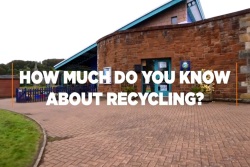 A Scottish primary school's video highlighting the importance of recycling has racked up almost 20,000 views on social media.
Titled 'Stow Primary explain why there are millions of reasons to recycle', pupils at the Borders school put across their knowledge of recycling – discussing the environmental and financial benefits to it, and their concerns for wildlife.
The video comes as part of the Scottish Borders Council's Millions of Reasons to Recycle campaign, which follows the findings that 70% of waste found in the constituency's kerbside bins could have been recycled.
The video isn't the first time the primary school has carried out sustainability work, last year the pupils received funding from the 100 disrupters competition – an initiative that encourages young people to 'positively disrupt' their local community by carrying out a series of environmental activities.
Debbie Matthewson, Stow Primary principal teacher, said, "Our pupils have worked tirelessly over the past 18 months to change people's mindsets and habits around single use plastic and recycling.
"They are passionate about sharing their learning on the importance of recycling and the negative impact it has globally when items are not being recycled properly.
"Although at times they can get frustrated and sad when they see or hear of people not recycling properly they do remain positive that what they are doing is making a difference and ultimately they hope their voice will be heard."
To watch the video click here.