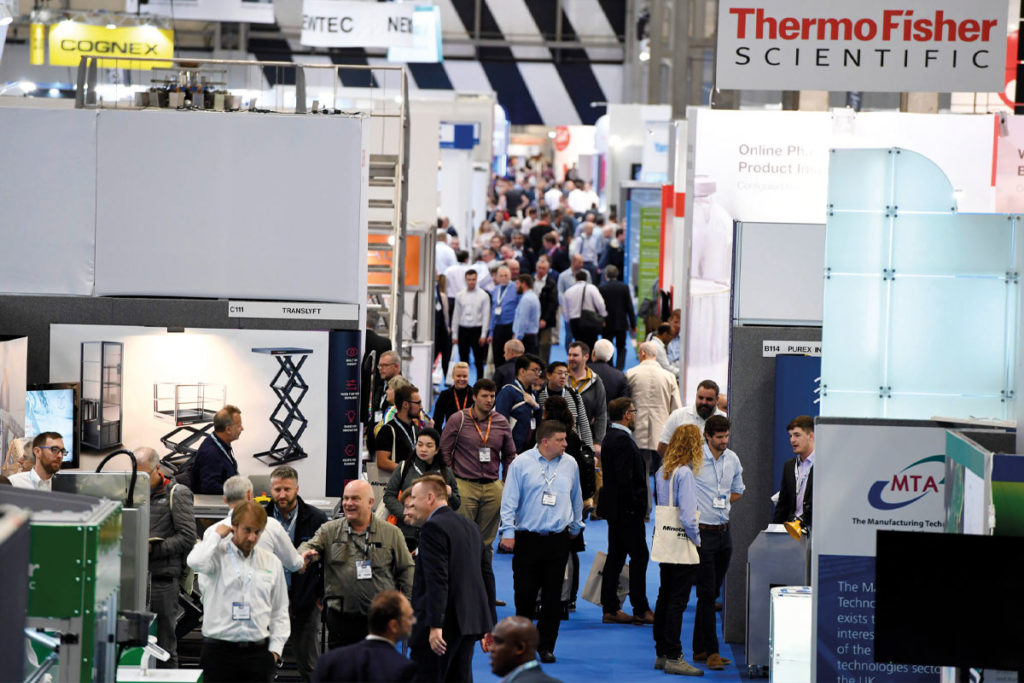 THE largest PPMA Total Show in the event's history took place recently in Birmingham, with over 450 exhibitors filling out the largest hall in the city's NEC.
Brexit was naturally a hot topic – with keynote speakers such as Peter Conradi, Europe editor for The Sunday Times, giving their take on what is forecasted for manufacturing industries. Exhibitors were also keen to share their plans for the future. 
Serialisation, sustainability and packaging design also featured heavily in keynotes – with Joanna Yarrow, head of sustainable and healthy living at IKEA, headlining day one of the event.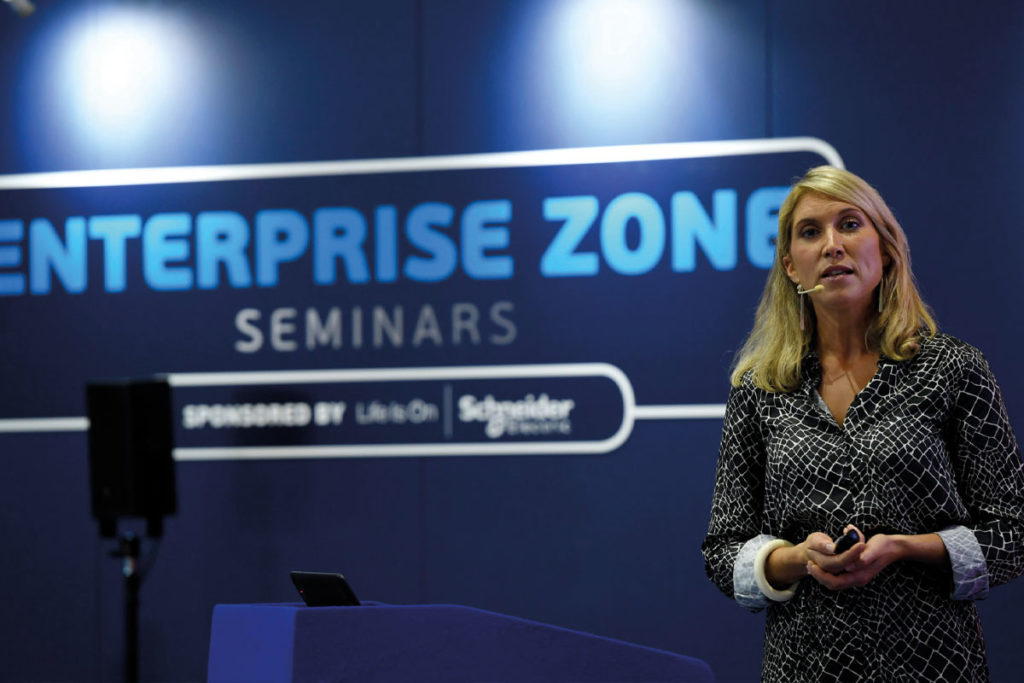 Despite the uncertainty surrounding potential implications for British trade, companies from around the globe set up base alongside their British peers to network and promote their products.
French company Schneider Electric had a continuous stream of visitors to their stand, which featured their Delta Picker Line – an eye-catcher, which showcased their sharp technology as coins were plucked from one line to another to be arranged into different shapes and text on another conveyor belt. 
"The idea is that with all the technology we do, our customers can make any kind of machine," Mariano M. Sanchez, machine experts team leader at Schneider, told Packaging Scotland. "Whether it's a globe wrapper or vertical form filling machine, they can use Schneider technology to do any type of machine. If you walk around (the PPMA show), you're going to see many machines that have Schneider products."
Mariano revealed that Schneider Electric invests around £1 billion a year into research and development, with the firm setting a target of 5% of revenue being invested into pushing forward with their technology each year. 
Speaking on Day One of PPMA he said, "We're in the early stages of the event, but it's been busy already this morning – last year we had a cracking audience, there was a lot of people and a lot of interest in our products so we're confident it's going to be the same this year."
Also in attendance was Morton Mixers of Bellshill, who were more than happy to ply Packaging Scotland with complimentary Scottish confectionary as they chatted about their display of mixing machines, which featured new modernised parts such as touchscreens and menu systems. Bill Walker, engineer at Morton Mixers said, "We feel that for that extra bit of cost, it's better to produce quality machines. 
"We've got machines that are still working that we manufactured in the 60s and 70s and it's because the machines are so well built, but we're still building machines to the same standard – it's well received, because some people want to buy a mixer that'll fit the budget."
The firm supplies mixers for companies including Tunnock's, Kellogg's and Nestlé – perhaps a testament of the networking opportunities offered at the PPMA Show. 
Another Scottish company with networking in mind was Evolution BPS, the Peebles-based bottling and packaging firm, which has recently appointed a colleague to be based in England as the business looks to expand without taking attention away from its core Scottish market. At last year's show, Evolution launched a partnership with Serac which allowed for the filling of more viscus products into bottles than was possible previously. The early results of this partnership were showcased at the Evolution BPS stand. 
"All our other products work across the food and personal care sectors and so on, so now we've got the filling solution for those markets so it's an important step for us – and this show is great for that, as a lot of those customers are the people that are here," Susan Brown of Evolution BPS explained. "We've had a fairly steady morning. It's Day One, so we're looking to keep that going and hopefully generate leads." 
Machinery manufacturer Ishida showcased various new products at the event, with its most recent development being available to view for the first time in Britain – with live demonstrations being provided throughout the show. 
Torsten Giese, marking manager of the company, said, "We have, for snacks, developed a new bag maker which is called the Inspira. It is slightly more highly efficient, slightly better pack quality, slightly easier cling, easier operation, less energy consumption, quicker changeovers – just small improvements, nothing revolutionary, but it helps. This is the first time showing it in the UK."
In standard PPMA fashion, various companies not only showcased, but announced the launch of new machinery and products. Fortress Technology, in association with Sparc Systems, unveiled its new affordable checkweigher. Sparc's general manager, Mark James, said, "The SG420 is a high-end checkweigher which has been slightly rationalised to deliver premium checkweighing performance in a simple-to-operate way. Its modular design is aligned to the Fortress universal simplicity. And like all Fortress equipment, comes with the highly-valued Never Obsolete guarantee." 
AVE showed its commitment to ensuring the firm's technology moves with the times by unveiling a new range of uniblock and monoblock bottling machines. The systems are adaptable to various materials, allowing for producers to adapt with pushes for more sustainable forms of packaging. Steve Bradley, AVE UK sales and marketing director said, "Producers are understandably nervous of making any purchasing decisions in the current anti-plastic climate. Knowing that there is an option available which allows them to continue bottling with PET, and at the same time use alternative materials as required, future-proofs their investment during this transitional period. The fact that the machines can be tailored not only to the individual size of operation and product to be handled, but also to the closures required, further adds to their appeal."
Steve revealed the benefits of showcasing their systems at the PPMA Show. "Every day has been worthwhile for AVE UK, particularly on the Tuesday and Wednesday. Tuesday was a day when we didn't have a lot of quantity, but what we did have was quality, and if we're being honest, that's what we prefer. Wednesday was a great day too; it was extremely busy from start to finish. Thursday was our networking day and involved maintaining our stand and interacting with our existing customers."
Day Three of PPMA was dedicated to addressing the skills gap, hosted by  PPMA's BEST (Business, Education, Skills and Training) initiative, whch was established to introduce students to potential career opportunities available within the sector. 
Organisers of PPMA Total Show 2019 hailed the exhibition an 'overwhelming success'. David Harrison, chief operating officer of PPMA Group of Associations said, "We're delighted that PPMA Total Show 2019 has received such positive feedback from visitors and exhibitors alike. As the show's organiser, we want to provide a valuable experience. Speaking to exhibitors at the event, I was delighted to hear about the high-quality level of leads and the number of prospects they had engaged with. Visitors remarked on the impressive technology demonstrations and the diversity of the packaging and processing equipment that was on display.
"While it is of huge importance that the show attracts the right decision makers, such as CEOs, managing directors and procurement personnel, to create business opportunities, the value of networking cannot be understated.  These conversations are key to us all learning about the goings on in the industry and how we can address the political and environmental issues dominating the sector."
David explained that despite the political climate and environmental forecasts, the packaging and processing industry "continues to thrive". He added, "What's more, when you consider the high standard of award entries received this year; coupled with the incredible range of technology on display and diverse range of visitors at PPMA Total Show 2019, the whole experience was a resounding success."