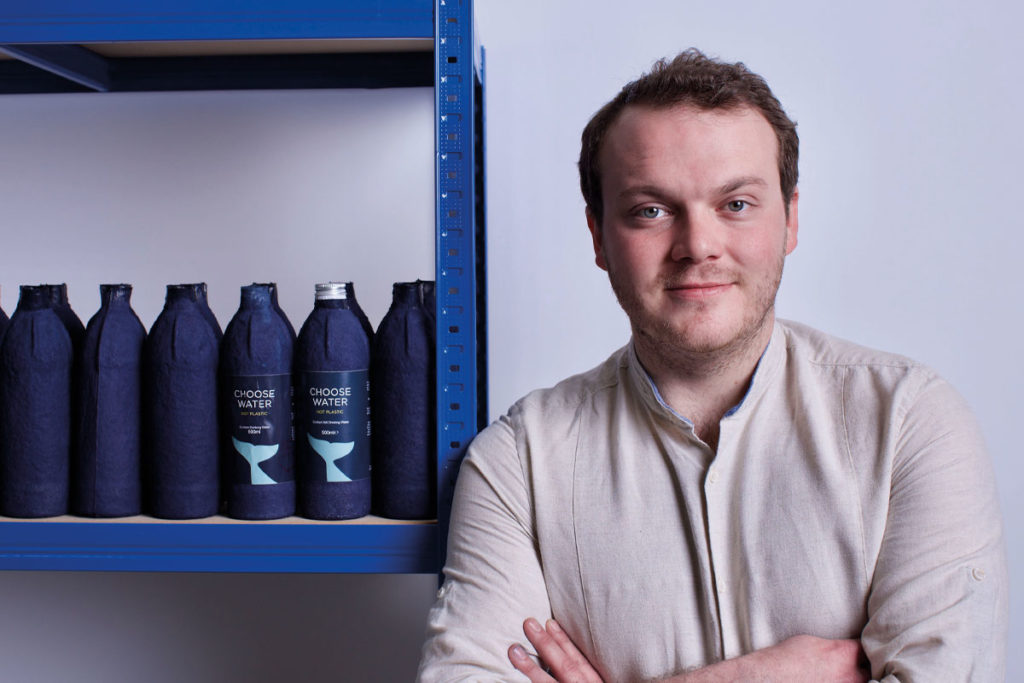 WITH international summits and debates on the world's plastic pollution crisis going viral, an Edinburgh man has taken it upon himself to fill newspapers to solve the problem. 
James Longcroft is behind an idea that is in the final stages of development, which will see the recycled journals turned into single-use water bottles under the name Choose Water.
The 28-year-originally began a plastic bottled water company with a friend after dropping out of his chemistry course. In a bid for the brand to come across as sustainable they offered a portion of profits from the sale of their drinks to the charity Water for Africa. To show where their money would be going, the charity suggested James and his business partner at the time go on a trip to Gambia. James agreed, oblivious to the fact it would change the entire business venture. 
"Within three days of being in Gambia we decided pretty quickly that they [Water for Africa] could have everything," he said. James was determined to do all he could to give as much as possible.
With the newfound sense of direction, the company pushed on – selling plastic bottles of water at weekend events, sustaining itself and continuing to donate all profits to the charity. 
However, criticism over selling plastic bottles led James to the conclusion that there must be a more environmentally friendly solution. He vowed to go 'plastic free' and come up with a product that was fully biodegradable.
A formula of recycled and de-inked newspaper was used with a fully natural plant-based liner to ensure the Cairngorms water was contained within, before being sealed with a biodegradable metal cap on top. Choose Water was born. It was no small feat getting to this position. However, the bottle is now five years into its development and only just ready to be released.
"People will ask, 'did you have a Eureka moment when it suddenly just worked?' The answer is no," James revealed.
"I started at my kitchen table; we had a couple of explosions, a couple of fires. We just got playing, we didn't have huge amounts of money to do this – we didn't have some massive research and development lab with scientists running around trying to develop really exciting new things. We just turned to nature and asked, 'what's waterproof in nature?' Turns out a lot of things. We're quite waterproof, trees are very waterproof, plants and leaves – these are all fairly waterproof – so it was a case of how can we harness that in a sustainable way for the lifetime of a bottle, then allow for it to go back to nature when someone is done with it? That process took a lot longer than I first imagined."
The development of the bottle has attracted big players, with Sky investing in the project and allowing James 24-hour access to a Sky-based team on information such as branding and general business-related queries. With such investment coming in, Water for Africa will no longer get the full 100% of profits as investors want a cut of future profits, but James has confirmed the charity will still benefit financially from sales. 
Such investment has, of course, reaffirmed the belief and potential of the bottle in solving the plastic bottle pollution problem. James admits that such a potential feat has brought pressure given that, if the bottle works with water, he says it will work with any form of contained liquid – with tests currently ongoing showing that household cleaners can be stored in the bottle, thus potentially eradicating the need for plastic bottles as James insists he won't keep the design components to himself.
Despite such potential and promise, he says investors have been understanding of the time and tinkering needed, and also that any pressure he feels is mitigated by the daily reminder of the task that is ahead.
"We dropped plastic [from the water brand] nine months before Blue Planet came out, and at the time of the plastic episode airing we had a factory in Fife. 
"I remember watching it on iPlayer as I was working on the bottle, and that day it was not working at all – I think I was bleeding at one point – and then I watched that episode during my lunch break and thought 'Ah, OK, it's completely worth doing this' so it was fantastic motivation."
Choose Water bottles are set to be available at select events and festivals, as James seeks to gauge an opinion on the formula before he 'pushes the big red button on the machine to make millions of these'. 
After that, the plan is to sell it online for six months before eventually rolling it out on the high street.