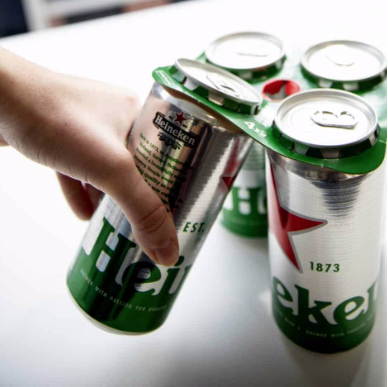 HEINEKEN UK has announced that it will eliminate plastic rings and shrink wrapping from its entire portfolio of beer and cider multipacks of cans by the end of 2021.
The move comes as part of a £22 million investment by the Dutch brewing company, with standard plastic rings being replaced by a 100% recyclable and compostable cardboard topper.
The topper will be rolled out across Heineken, Foster's and Kronenbourg 1664 multipacks by April 2020, followed by Strongbow, Bulmer's and John Smith's by the end of 2021.
Cindy Tervoort, UK marketing director at Heineken said, "The effect of single-use plastic is having on our planet can't be ignored. Creating an eco-friendly solution that eliminates plastic while still meeting the demands of our beer and cider drinkers has been a big focus in our business.
"Now, after years in development and huge investment, we're extremely pleased to announce our recyclable and compostable topper innovation, a significant milestone in our journey to eliminate all single-use plastic."