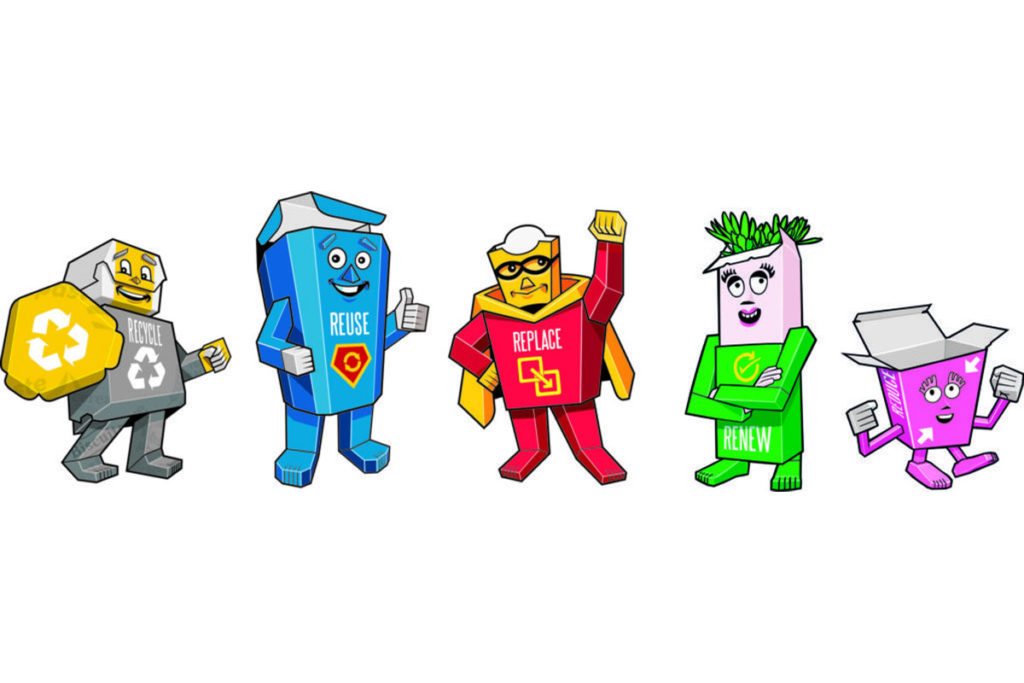 PRO Carton – the European Association of Carton and Cartonboard manufacturers – is marking European Week for Waste Reduction (EWWR) by launching The Carton Campaigners: five cartoon characters that illustrate the 5Rs of Responsibility.
The project features five members because Pro Carton believes the widely known 3Rs (Reduce, Reuse and Recycle) must be updated to include 'Renew' and 'Replace'.
To help Pro Carton spread the word, The Carton Campaigners has been created to give each action its own mascot. Together, they represent a set of guidelines in which brands and consumers can take responsibility for consumption habits and reduce the levels of packaging going to landfill.
The characters will be incorporated across a number of Pro Carton's initiatives including the TICCIT (Trees into Cartons, Cartons into Trees) programme, which aims to teach primary school children about the circular economy.
The five characters are Ricki Recycle, Ryan Reuse, Rhianna Reduce, Ronnie Replace, and Renée Renew.
Tony Hitchin, general manager of Pro Carton said, "We're really excited to launch our five Rs characters – each one really brings to life the message that we are trying to share. In the current climate, the three Rs are no longer enough to resolve the issues we're facing worldwide. But if we demonstrate the importance of the five Rs of Responsibility – by enlisting the help of the Carton Campaigners of course – then I believe that together we can encourage the use of sustainable materials so there is hope of a brighter future for our environment."