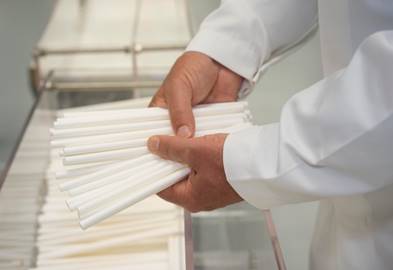 PAPER straw manufacturing specialist Transcend Packaging has announced the acquisition of Leeds-based BioStraw Ltd's assets.
Known for biodegradable paper straw manufacturing, BioStraw will transfer its production to Transcend and 'refocus efforts' on licensing its intellectual property and helping bring new products to market.
As part of the deal, the senior management team from BioStraw will join the expanding Transcend Packaging team, which has enjoyed massive growth since opening its first production site in south Wales last year.
Lorenzo Angelucci, CEO of Transcend Packaging said, "We are pleased to welcome the leadership group from BioStraw into Transcend Packaging's team. The BioStraw team has developed a reputation for innovation and product quality and they will help strengthen our strong production and marketing capabilities as we scale into new markets and international production in the months ahead."
Transcend has already won a number of major contracts with high street brands, supplying paper straws to the likes of McDonald's and KFC.
Former BioStraw MD Mark Mitchell added, "We are honoured to be joining the Transcend Packaging team. Transcend has emerged as the UK market leader for paper straw production with a strong portfolio of major multi-national clients. We look forward to helping Transcend bring new innovations to market while helping expand to new markets across Europe and beyond."