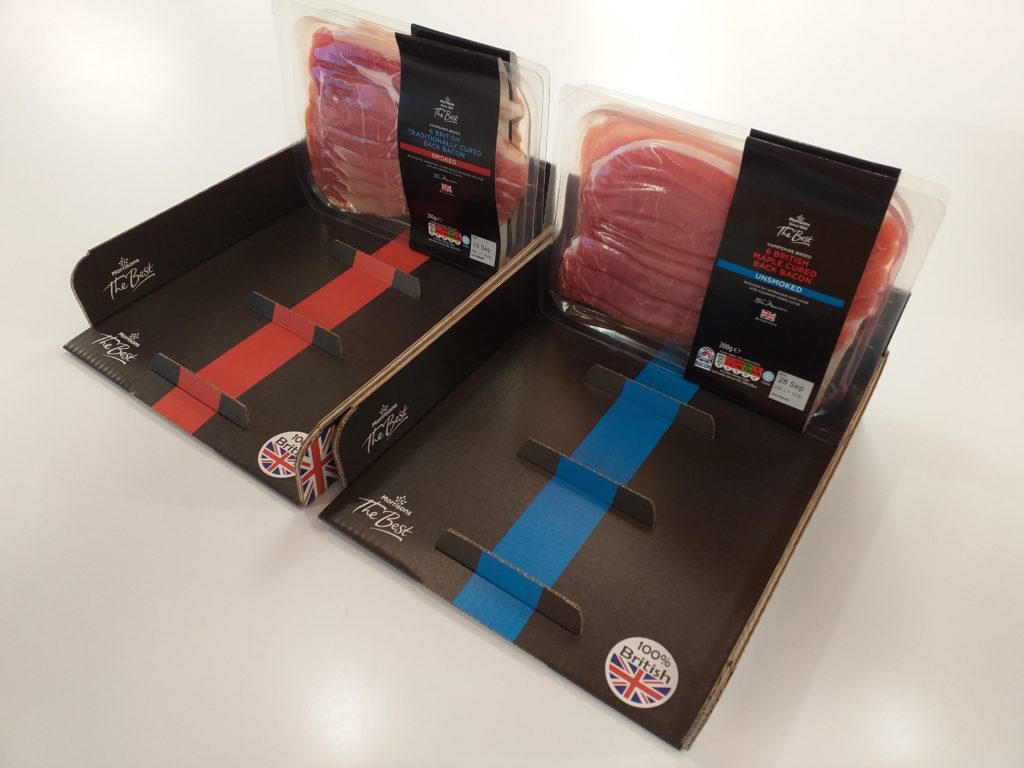 MORRISONS has partnered with DS Smith to launch a new sustainable product holder for the supermarket's The Best bacon range.
Morrisons had traditionally used single-use plastic trays to keep products upright on shelves, but wished to move to a more sustainable method after signing the UK plastic PACT. A sustainable fibre-based corrugated cardboard tray was developed by DS Smith to meet the grocer's needs.
The 100% recyclable tray holder uses DS Smith's Optishop Fin concept and the company says it allows for staff to re-stock goods at high speed, due to minimal assembly time being needed.
The design features asymmetrical sides so that branding can be seen at all angles by shoppers, and the fold over section provides inside print opportunity – which removes the need for double face printing.
Katherine Whitham, procurement manager of packaging/manufacturing at Morrisons Farming, said, "The solution that the DS Smith team devised perfectly fulfilled our Best Bacon re-launch brief. For us, the primary pack is king, and it is vital that the pack remains upright. We are delighted by the visual impact of the RRP and how it complements the product and primary pack. We believe it will create shelf disruption, encourage sales growth and boost market share."
Jo Cartwright, strategic account manager at DS Smith added, "Optishop Fin has broken down generic boundaries and is considered as part of the product rather than secondary packaging. Our work with Morrisons demonstrates a real partner collaboration to deliver this innovation to meet the supermarket's relaunch date. The new RRP has helped increase sales, and importantly has addressed a specific market need and meets Morrisons' circular economy commitment.
"We're extremely pleased that the 100 per cent fibre-based RRP is a first-to-market. It meets consumer expectations in creating an alternative to single use plastic, and is eye-catching, increasing brand visibility within a strong category."