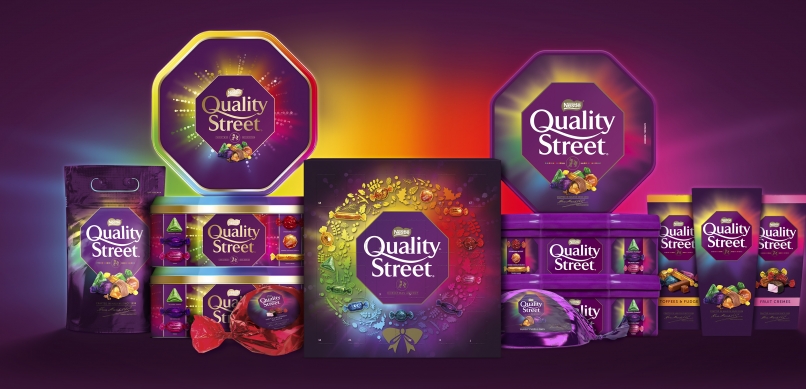 NESTLÉ has unveiled a new packaging system and design for their Quality Street chocolate assortments.
The Swiss company say that they have invested in new technology at their Halifax factory that allows Quality Street sweets to be packaged in a more 'advanced and modern' way, without the need to move away from the classic wrapped packaging.
Alongside the upgraded sweets packaging comes the new-look tin – which takes it cue from the multi-coloured foil wrappers of the Quality Street assortments, whilst maintaining the traditional purple background.
Alongside the change in tin design, is an alter in the weight of the overall product. In Christmas of 2018, Quality Street tins weighed 750g, but this year the standard tin will come in at 650g. However, additional tins weighing 1kg and 2kg will be available to consumers this year.
Ellie Worley, senior brand manager for Quality Street, said, "2019 is a huge year for Quality Street. We've got a new sweet, a new design and we are developing the brand in all areas ahead of the Christmas season."
"I know just how much people love Quality Street and we work really hard to find that balance between keeping things fresh but also familiar. We've been listening and I think we've got the perfect mix this year and made the changes that people have told us they'd like to see."