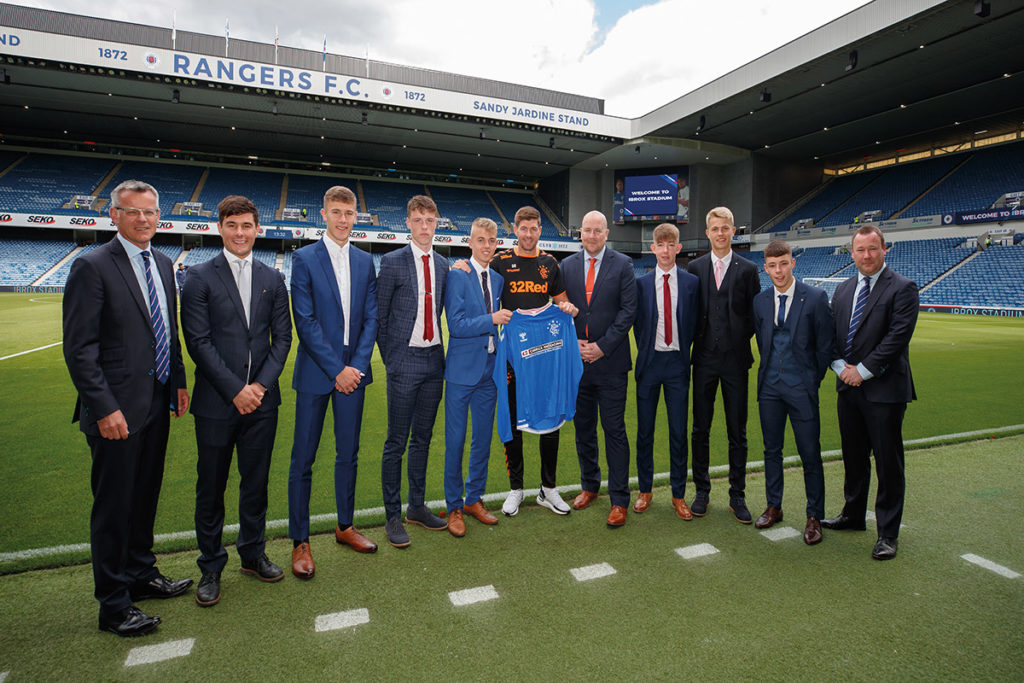 RANGERS Football Club has announced that Carrick Packaging is to be the club's official academy and development team partner for the forthcoming season.
Glasgow-based Carrick, who have been in operation since 1851, will have their name displayed on the front of all academy and development squad jerseys during the 2019/20 season.
Carrick representatives Derek Warren and Cameron Kirkwood were recently welcomed to Ibrox by Rangers MD Stewart Robertson, first team manager Steven Gerrard, head of youth academy Craig Mulholland and a host of professional youth players from the club's academy.
Craig Mulholland said "Having the support of Carrick Packaging for this season is hopefully a reflection of the hard work, modern practice and innovative change that has went into our Academy over the last few years and we are delighted that we now have a partner in Carrick Packaging who are as passionate about developing young people as we are. Before agreeing this exciting partnership, we spent time with our friends at Carrick Packaging and they have come into our environment and witnessed the Academy culture, playing style, strategy and philosophy and also some of the exceptional talent we now have in Rangers Academy."
John Jordan, MD of Carrick Packaging added, "Carrick Packaging is delighted to be on board as the official partner of the Rangers development and academy teams for the coming season. As a business, Carrick Packaging takes great pride in investing in and developing, young talent. Over the years we have been in the fortunate position to be able to pursue that passion further and to lend our support to young sportsmen and women across the UK. After seeing first-hand the stellar work being carried out at the Hummel Training Centre by Craig Mulholland and his team, we were honoured to be invited to become the Official Partner for the clubs Academy and Development teams."
Carrick Packaging started life as a specialist in the manufacturing of steel drums. The firm now has three different UK distribution centres, and offers a variety of steel barrels, UN1A1 Tighthead drums, IATA cans and plastic containers.