ADVERTORIAL
Colin Maher, country manager for UK, Ireland and Russia at Minebea Intec, hosted a special event in Birmingham recently designed to educate attendees on the legislation surrounding weights and measures of packaged goods, and highlight the role of checkweighers in reducing unnecessary product giveaway.
MINEBEA Intec, a leading global manufacturer of weighing and inspection solutions for a wide range of sectors, recently hosted a dedicated Process Control Seminar to educate customers about relevant legislation and the latest technologies, and drive efficiencies within their businesses.
Held at their purpose-built demonstration centre in Birmingham, attendees learned about the requirements of the Weights and Measures (packaged goods) Regulations 2006, and the role of checkweighers in ensuring accuracy and compliance.
Colin Maher, Minebea Intec's country manager for UK, Ireland and Russia, said that the majority of companies are currently giving away far more product than they need to. Minebea Intec is on a mission to encourage firms to move away from using sampling methods to check the weight of goods.
"Once you have a clear understanding of the regulations in relation to weighing, and in particular checkweighers, you soon realise you can reduce your giveaway considerably," Colin explained.
"I'm talking about up to ten grams off each pack you make which, when you're making thousands of packs, can add up to a lot of product.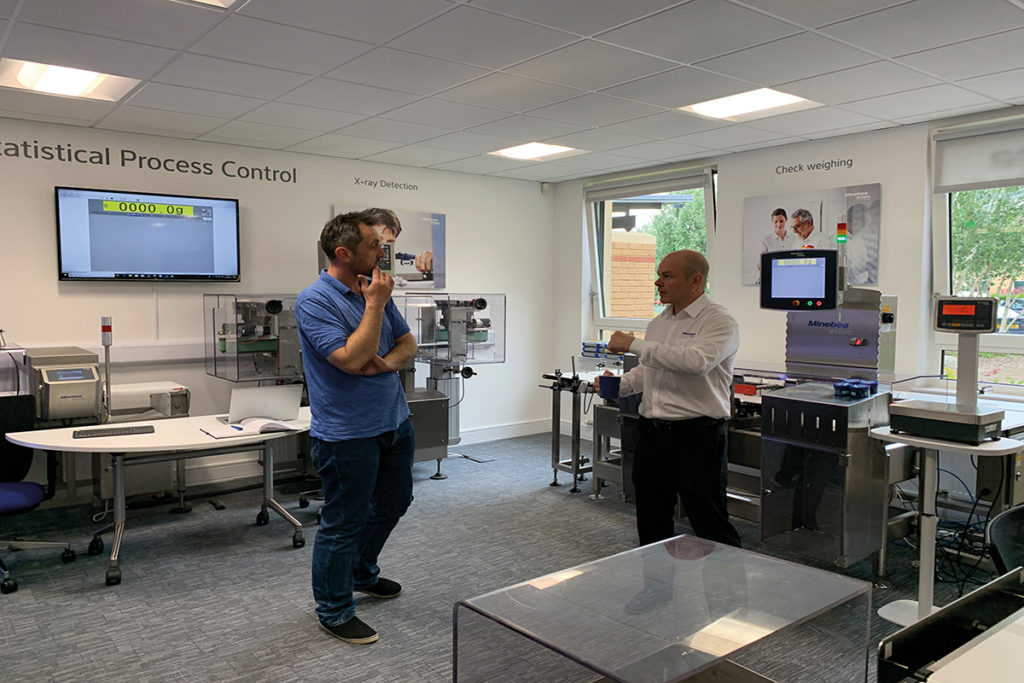 "This all seems a bit of a 'black arts' to people, but the regulation isn't intuitive in any way, shape or form. I trained at the National Weights and Measures Laboratory with Trading Standards officers in 2006 when the regulations changed."
Since then, Colin has worked with WELMEC, a European body concerned with establishing a consistent approach to measurement. He says that once you understand the calculations and limits, you can successfully conform with all regulations and make them work for you.
One of the things Colin stressed at the seminar was the 'crazy' amount of businesses which are still utilising a sampling method for checking the average weight of products. He said it's not uncommon for firms running a production line that produces thousands of products every hour to only weigh check around six products every half hour to establish that, on average, they're adhering to regulations.
One of the problems with this, however, is that it can result in just a tiny percentage of what has been produced being checked, potentially causing firms to err on the side of caution and give away more product than necessary.
"It's like driving along the road and not knowing what speed you're doing, only being able to check it every half hour," Colin explained. "You tend to drive more slowly just to be safe.
"What we do with this seminar is teach people how, under the regulations, you can use an inline checkweigher to weigh 100% of your production and check 100% of your production. When you're looking at everything rather than just a snippet of your production, you can run closer to the limit and start reducing your giveaway.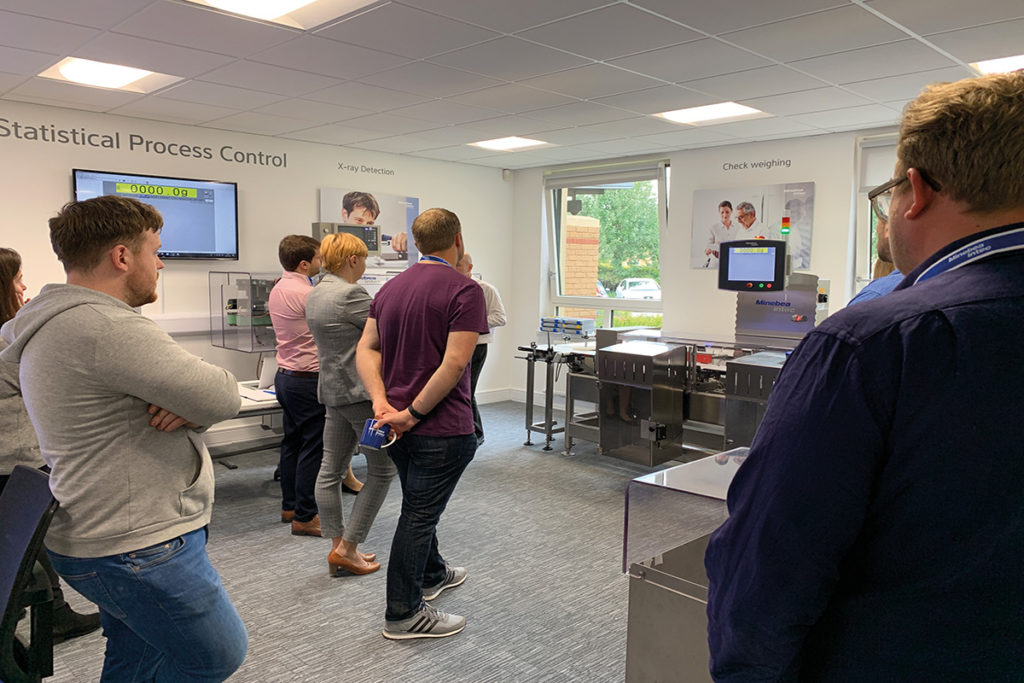 "In combination with this we go on to explain how a checkweigher controls the filler to give you the absolute maximum target weight. We've got Minebea Intec checkweigher users out there running to a target of 0.1 of where they want to be."
The seminar also covered issues such as tare variability and the fact that checkweighers are also suitable for use with glass. Colin says the number of misconceptions which still exist in the marketplace is 'massive'.
"99% of the industry is still doing sampling," he said. "There's a requirement under packaged goods to have a certain accuracy of checkweigher but we go through that in detail and demonstrate it."
Colin continued, "One of the issues we've seen with people using checkweighers in the past was the way they checked them. Checking a checkweigher has to be with the product. It must be with the package you're running.
"A checkweigher is designed to weigh in motion. If you put weight on it when stopped, this can be right statically but, of course, when you start up all the belts and have a moving product, the weight changes due the vibration and everything else. What we do is teach people – and this is how Trading Standards do it – to do a validation of the product. You weigh the same product ten times and then you can see what the variability of that product is and, more importantly, the repeatability of the checkweigher.

"From that you derive a calculation that says 'this checkweigher, I can use it for average weight'. After that, you've done your due diligence.
"We actually provided attendees with some tools on a USB to do this. Once they've done that, they can link the checkweigher up to a software system so it collects data. We teach them how to do the ongoing checks to make sure the checkweigher is still always within tolerance."
Colin described the move away from sampling as a "no-brainer".
The Process Control Seminar was particularly relevant to those working within the food and chemical industries. Everything from bleach to canned food and cosmetics falls within the regulations.
Feedback has been excellent, with one attendee – a maintenance engineer manager – e-mailing Colin the following day to confirm the event had reinforced some things he was already aware of and, more importantly, taught him some things he didn't know.
"People have been asking us for the last 18 months to run this seminar, as we are recognised as experts," Colin added. "People know Minebea Intec are the people who know about the regulations; the ones who know how to reduce giveaway. I enjoy it because I'm an engineer and I can get a bit geeky!"
Also showcased on the day was Minebea Intec's fingerprint sensor-controlled technology, produced in response to retailers' requirements around the practice of safeguarding contaminated products. If a product is rejected due to contamination, it can go into a locked box which works by fingerprint rather than key access.
This makes it more secure and ensures that only people who are authorised can access a potentially dangerous product that's been taken off the production line.
Minebea Intec also showed off the new radio frequency identification (RFID) access technology, which tackles the problem of people changing settings on a machine, which in turn affects the product. RFID access means unauthorised personnel can't change anything once production starts.
These are the kind of innovative solutions which have helped keep Minebea Intec on top, with the forward-thinking firm continuously working on ever more reliable and efficient solutions to help customers be as productive as possible.
For more information about Minebea Intec and its products, visit www.minebea-intec.com