PROMOTIONAL FEATURE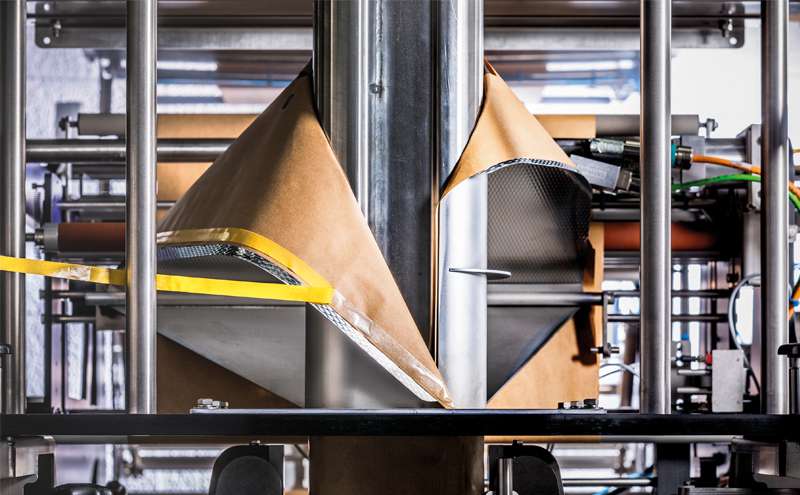 A few years ago, through the pages of Packaging Scotland, I advocated the return to use of paper as a packaging medium for products including fresh produce rather than the unsustainable use of plastic.
At last, the 'wind of change' has gathered a bit more momentum now, with the introduction of the new Bag-2-Paper vertical form fill machine from JASA. Agritronix is proud to be introducing this new machine in Scotland, especially since the pack is 100% recyclable.
At JASA innovation is highly important. That is why they have developed a revolutionary new technology for their vertical packaging machines – Bag-2-Paper. It's 100% recyclable paper without plastic coating, the packages can be closed without sealing and it's 100% suitable for recycling. This makes Bag-2-Paper a revolution for sustainable packaging.
Their innovative vertical packaging machine, Bag-2-Paper, can be used to sustainably pack your dry products such as potatoes, onions, garlic, shallots, nuts, seeds and flower bulbs. Thanks to the vertical form fill method, your products are packed incredibly fast. Traditional papers generally have a plastic coating on the inside, which makes them unfit to recycle. On top of that, sealing these packages is a slow process that not only takes a lot of time but requires a lot of energy too. 
JASA does this differently with Bag-2-Paper. Thanks to the vertical packing technology, Bag-2-Paper keeps the speed you are used to and because there is no hear seal applied to seal the packages, the machines are energy efficient.
This is not only good for the environmental impact, but you will see a decrease in energy costs as well. The new Bag-2-Paper vertical packaging machine can be used with pillow, gusseted and doy-style bags. With an easy changeover, you can also use the machine with your traditional plastic packages.
It is a well-known fact that fresh produce especially keeps better in paper than poly and with that in mind, the above machine fits in well with existing equipment offered from Agritronix available to pack into carboard boxes or cartons, paper trays or bags.
Bespoke packing and weighing machines are a speciality from Agritronix. Agritronix also supplies and manufactures a wide range of machines, including weighers and a wide range of packing machines, from VFFS, to net baggers, to tray or box fillers. A range of used, reconditioned machinery is also available, details of which are available on request.
Established in 1982 by Alan Peebles, Agritronix has seen many changes to the packaging industry, having introduced automation to many packhouses in Scotland over the years. This is just another exciting development; almost another cycle taking us back to the days of the traditional method when everything was purchased in a paper bag! 
www.agritronix.co.uk
01592 775599