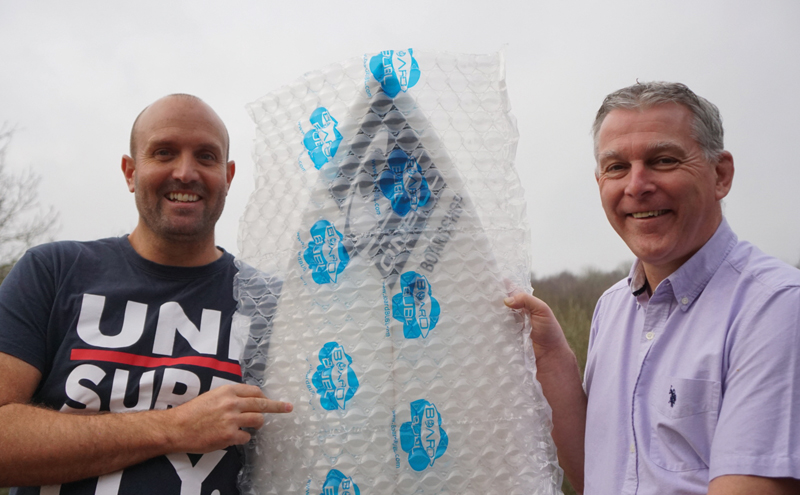 INFLATABLE protective packaging business BUBL Packaging has launched a new product designed to safeguard surfboards in transit.
BoardBUBL is the result of a collaboration between the Falkirk-founded company and Jez Browning, owner of Unisurfity, a global surf coaching firm.
The slightest dent or scratch can cause serious damage to a board from water ingress, therefore it is essential to keep it completely protected.
BoardBUBL is described as being made from "very strong, recyclable material" that covers the entire board, protecting even the rails, tail and nose. BUBL Packaging said it has already completed successful pilot schemes with leading surfboard brands, and the products have been used to ship boards all over the world.
The product is initially being targeted at surfboard manufacturers, but the firm said it could also alleviate transit damage concerns for products including snowboards, skateboards and windsurfing boards.
 BoardBUBL is inflated only when needed, which reduces demand for warehouse space, and it can be reused many times. The product comes in two variants; BoardBUBL wrapping for protecting single boards, and BoardBUBL tubes to pack up to 10 boards in a single package.
BUBL Packaging has reported over 40% year-on-year growth and said further product announcements will be made this year. MD Ross Woodburn said, "BoardBUBL is a fantastic example of how we can address the needs of specific sectors by collaborating with industry experts; the product is being used by leading board makers who have quickly seen the value it brings economically for themselves – but just as importantly it brings about a reduction in emotional damage for their customers, as receiving a damaged board is hugely disappointing and can cause long lasting reputational damage."