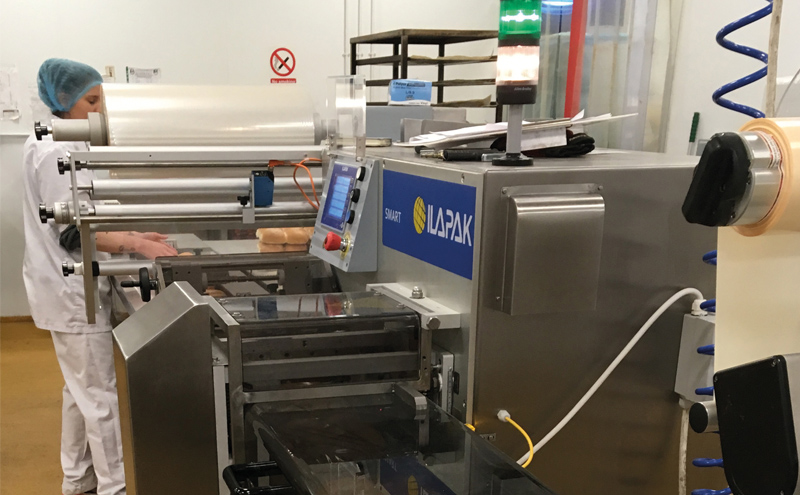 A Scottish bakery is said to have avoided potentially costly downtime thanks to a 'Smart'  solution from Ilapak.
Inverness-based Scotbake produces a range of craft bakery products, delivered throughout Scotland seven days a week. The business model allows no margin for downtime so when the circuit board on one of the company's flow wrappers went on a Sunday afternoon, managing director David Skeoch reached out to Ilapak sales manager Chris Gee.
"I told him the situation; he said he could get a Smart flow wrapper to us by Friday. Within a day we had agreed a purchase and the machine had been adapted to our specification ready for delivery to us on Thursday," David explained.
Whilst waiting for the new flow wrapper, David said Scotbake "got by" with an old L sealer, but was relieved when the new machine was delivered on Thursday as promised. "Customers understand if the presentation isn't quite as good as normal for a few days, but any longer and it doesn't do your reputation any good," he added.
Scotbake was initially concerned the Ilapak Smart flow wrapper might not be able to cope with the different product type and pack sizes that run on the line, over 50 in total. However, the firm has reported a performance advantage over its previous flow wrapper, thanks to its ability to self-adjust to pre-programmed products. David continued, "With the old machine, every time we changed product, we had to re-enter all the measurements and parameters. The machine didn't store them within its memory. The Smart has reduced set-up and changeover time considerably, as it stores product settings in its memory.
"Changing to a different product simply involves selecting that product via the touchscreen, and the flow wrapper will automatically adjust its settings to the required temperature, product length etc. All the operator has to do is to adapt the folding box to the required width. This is far quicker and saves us lots of valuable time."
The Smart machine is described as featuring cantilevered hygienic design, ABB electronics, colour touchscreen, and no-product no-bag and misplaced product functions. It is capable of producing pillow and gusset packs from hot and cold seal films on up to 50 microns in thickness.
David added, "I can't compliment Ilapak highly enough. They got us out of a hole and pulled all the stops out to get the new flow wrapper to us as quickly as possible. Even though it was a 'distress' purchase, we're delighted with the versatility and programming capabilities of the new flow wrapper. The Smart does everything the previous machine did – and more."