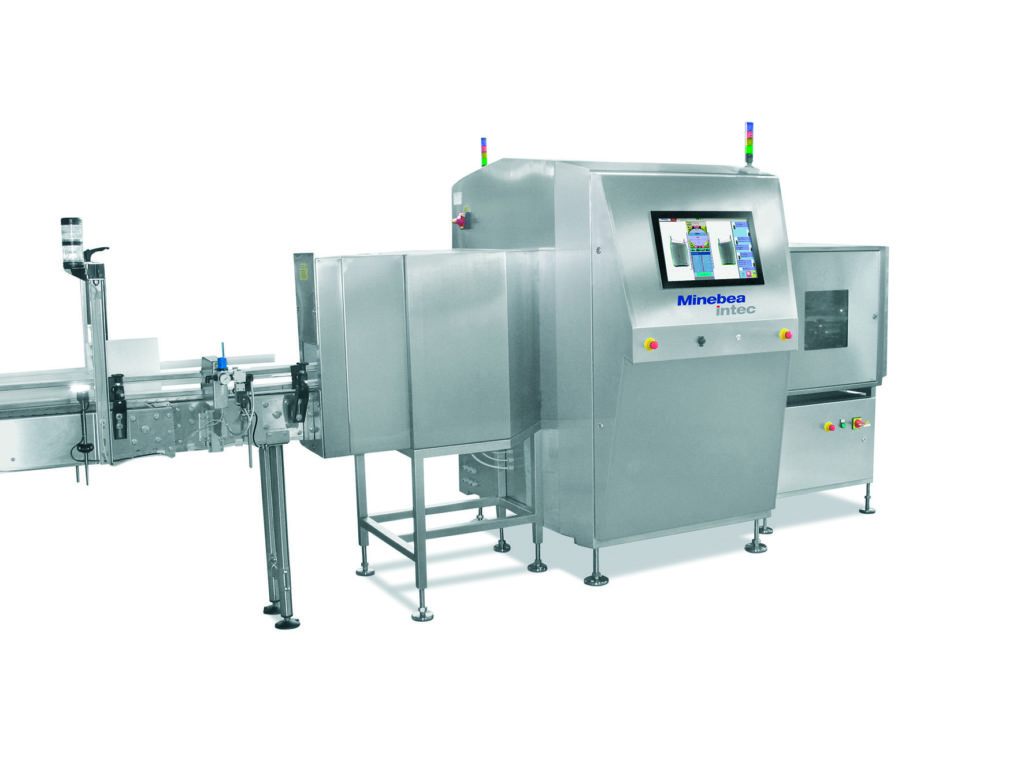 PROMOTIONAL FEATURE
X-Ray inspection systems from Minebea Intec are used by a wide range of customers to detect foreign bodies in packaged products including boxes, cartons, pouches, sachets and trays. 
The global manufacturer offers a wide variety of models to suit different applications and is about to introduce its latest machine to the market – an advanced version of the Dymond S, which is suitable for use on unstable and tall products.
Here, Peter Walker, Minebea's sales manager for the UK and Ireland, explains the latest developments, the benefits of X-ray systems and what customers should take into account when considering purchasing one.
Q) WHAT CAN YOU TELL US ABOUT THE LATEST PRODUCTS AND INNOVATIONS IN MINEBEA'S X-RAY INSPECTION RANGE? 
A) The X-ray range has been growing considerably over the last couple of years. Two years ago, we introduced our Dylight model, which was one of the most cost-effective X-rays that had ever been launched. It is designed for small products and is only one metre long, and that includes an integral reject mechanism and reject bin as well. 
Now we're working at the other end of the range. We have just launched a new version of our Dymond S, which is a horizontal beamed machine used for unstable and tall products that are hard to handle.
On top of that, we've got a completely new addition to the Dymond family, which is called the Dymond D. The D stands for dual beam. This is a two beam X-ray system with two 1,000-watt X-ray generators capable of looking for glass fragments in all types of bottles, jars and glass packaging.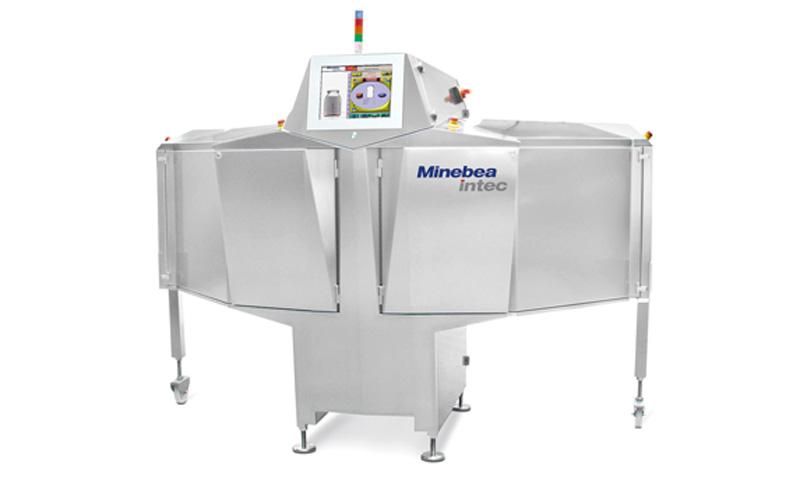 Q) ARE X-RAY INSPECTION SYSTEMS BECOMING MORE PREVALENT? IF SO, WHAT IS DRIVING THIS DEMAND?
A) Yes, they're definitely becoming more prevalent. There are a few reasons for that. One is that the cost difference between X-ray and metal detection systems has come down a lot in recent years. This has made X-rays more common, and because they're more common they're becoming more accepted. 
Customers are also realising there is a lot more you can do with an X-ray system. X-rays can detect other foreign bodies, not just metal, and you can also use an X-ray to detect quality issues such as missing or incomplete products. 
Q) WHAT ARE SOME OF THE BIGGEST CHALLENGES IN THE PACKAGED FOOD SECTOR WITH REGARDS TO INSPECTION AND HOW DOES MINEBEA HELP OVERCOME THEM?
A) In the packaged food sector, it's the drive to become ever more efficient, with higher throughput, less downtime and fewer false rejects. Our X-ray systems are certainly designed around optimal product handling and have an intuitive software package that ensures that false rejects are reduced to an absolute minimal. 
Q) WHAT CONTAMINANTS CAN YOUR X-RAY SYSTEMS DETECT?
A) Primarily metal, glass, stone and, in some cases, bone. Bone detection depends on the type of bone and the type of product. In addition to this, there are constantly new metal or X-ray detectable materials that are being used on things like seals, which we can then also detect given the right combination of density of product and the right contaminant to find. 
Q) HOW HAS X-RAY TECHNOLOGY EVOLVED OVER THE YEARS?
A) X-ray is all about an image and processing that image. The processing power has increased, and along with that the generators for the X-ray have evolved, so we can now get much higher power in our monobloc generator designs. The upshot of all that is that it enables them to run faster while doing a more thorough inspection of the product at the same time.
Q) WHAT DO YOU SEE AS THE FUTURE FOR THESE MACHINES? HOW VITAL IS INNOVATION TO A COMPANY LIKE MINEBEA?
A) For us innovation is really important because we always want to help our customers stay one step ahead and make their products absolutely as safe as possible.
It's absolutely vital that we keep innovating and adding value that encourage our customers to switch to X-ray. Anything we can add, such as being able to detect quality issues with the product while looking at foreign body contaminants, can only help them justify the systems in the first place.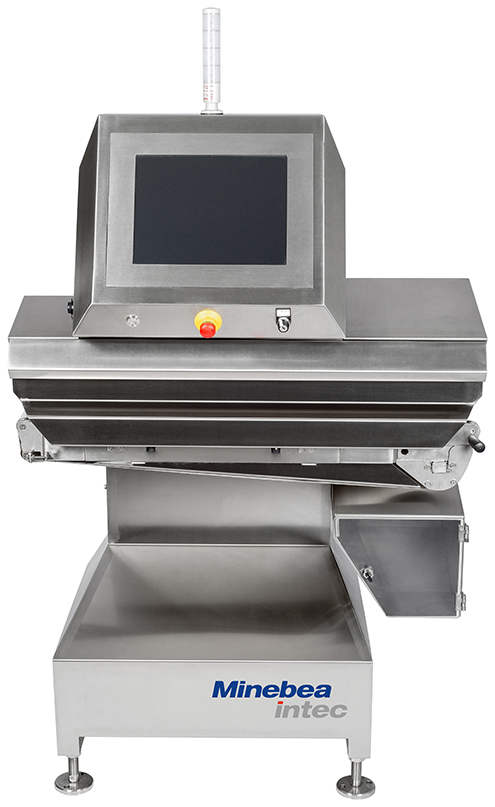 Q) HOW COMPETITIVE IS THE X-RAY INSPECTION MARKETPLACE AND HOW DOES MINEBEA STAND OUT?
A) As with most things in the food industry, it's very competitive. We have focused very heavily on our hygienic design, so our machines are designed for the food industry environment. Our position as a global leader in weighing and inspection technology enables us to integrate the production line with the connectivity that's going to be required in IT landscapes going forward.
Q) HOW EASY ARE THESE SYSTEMS TO OPERATE AND DO YOU PROVIDE TRAINING AND ONGOING SUPPORT TO CUSTOMERS?
A) The X-ray systems are extremely easy to operate. They have a very intuitive HMI, which is designed in a graphical way to make it extremely easy to understand.  
As far as running the machines and setting up products are concerned, they now come with a self-learn feature that involves an operator passing products through, from which the machine will learn which are good and bad products. 
We offer on-site training for the operators, and in our facility in Birmingham we can offer engineer-level training that ensures the machines can be kept running as efficiently as possible throughout their life.
Q) WHAT FACTORS SHOULD CUSTOMERS TAKE INTO CONSIDERATION WHEN CHOOSING AN X-RAY INSPECTION SYSTEM?
A) The first thing is the packaging format that they're using. This takes several forms. Material is most important. Anything metal, metallised, foil will need to have an X-ray system in place. Once they've decided that, we need to know what format the packaging is. If it's something tall and unstable, we need a different type of system to be able to handle that product than we do if it's a flat container or a typical box. 
Those are the initial things to be taken into consideration. We then help customers look at what else we can do for them with that X-ray. Is there an issue with products that maybe incomplete inside the box we can help pick out? Are there two components within the box that we can help identify the fill levels of each and compare those? Anything else that can give added value is something they should consider.