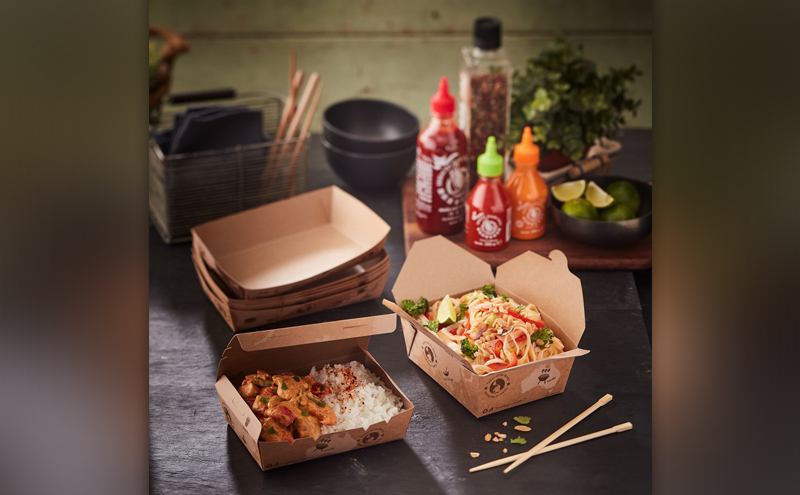 A new range of kraft paper disposables from KeCo Foodservice Packaging is aiming to offer caterers a "modern and contemporary" eco-friendly serving solution for on-the-go-consumers.
The food packaging specialist's new 'StrEAT' range of 100% recyclable and biodegradable kraft paper consumables comprises of seven products – leak-proof noodle box; wrap/tortilla scoop; wrap/tortilla pocket; multi-food tray (available in two sizes); hot dog tray; tortilla sleeve and chip cone.
The range, manufactured in the UK from FSC accredited virgin material, was inspired by the popularity of global cuisine and the continued street food trend.
Available in kraft brown, the StrEAT range aims to give caterers a "versatile and functional packaging choice" to complement the serving of a variety of international foods.
Speaking about the development of the StEAT range, John Young, sales and marketing director at KeCo Foodservice Packaging said, "Consumers can't get enough of eating on-the-go – IGD predict that the food-to-go sector could be worth £23.5 billion by 2022, which is huge.
"This significant market growth presents KeCo with a great opportunity to invest in NPD and innovation; and the development of our new StrEAT range is a great example of this. StrEAT was created in response to the competitiveness of the food-to-go market, which is very much accelerated by packaging developments and global menu influences. We know that interest in worldwide travel is high, and therefore consumer demand to explore the tastes and flavours of international cuisine remains hugely popular. As a result, the street food trend continues.
"Our StrEAT range of quality foodservice packaging provides operators with easy to use, durable disposables which allow them to cater to the high demands of today's consumers. This includes addressing the environmental impact of single-use packaging and the importance of supplying environmentally friendly concepts. The StrEAT range is made from virgin paper and is recyclable. The products' kraft paper material and brown colour promote the street food concept and accentuate the authenticity and provenance of the cuisine being served."