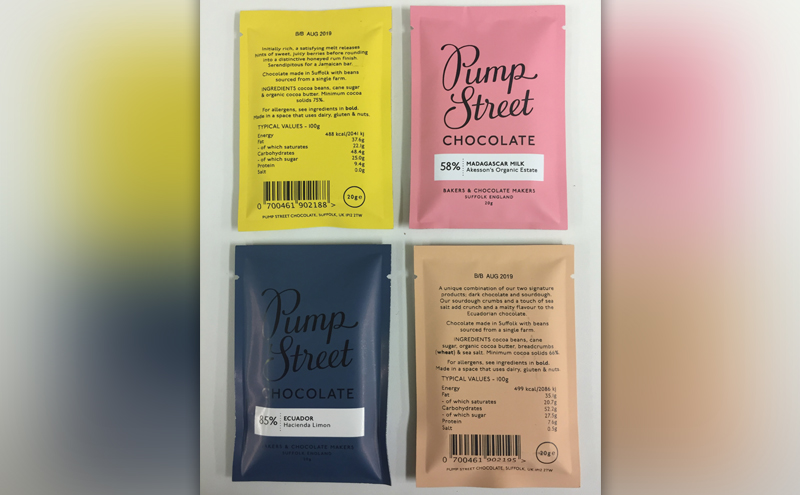 A premium chocolate producer has reportedly experienced significant labour-saving benefits since automating its coding process.
Suffolk-based Pump Street Chocolate decided to purchase a Rotech RF Lite feeding system with iJet thermal inkjet (TIJ) coder after starting to produce 20g bars to complement its existing range of 70g bars. The smaller tear-open sachets for the smaller bars required a different solution and automating the coding process has freed up staff to take on other duties.
"We were literally writing the sell by date on to the sachet by hand," said customer manager Sally Jones. "Every month we make batches of around 4,000 bars, and it was taking up hours of our time. Now, in 20 minutes or so, the Rotech machine prints what it would have taken us three days to write by hand."
Rotech said its RF Lite feeding system is "ideal" for small-scale food producers automating for the first time. It pulls individual packs from a hopper, positions them for coding with the iJet TIJ system, and then transfers them to a stack of coded sachets. The feeding system is said to have a linear speed of up to 60m per minute. Rotech added that TIJ coding is often "unjustly" overlooked in favour of other coding technologies such as thermal transfer and continuous inkjet (CIJ). Rotech highlighted the lower cost of TIJ, when compared with CIJ on the basis of cost per 1,000 codes. As a general rule, Rotech explained that the cost with CIJ can be "over one and a half times as much".