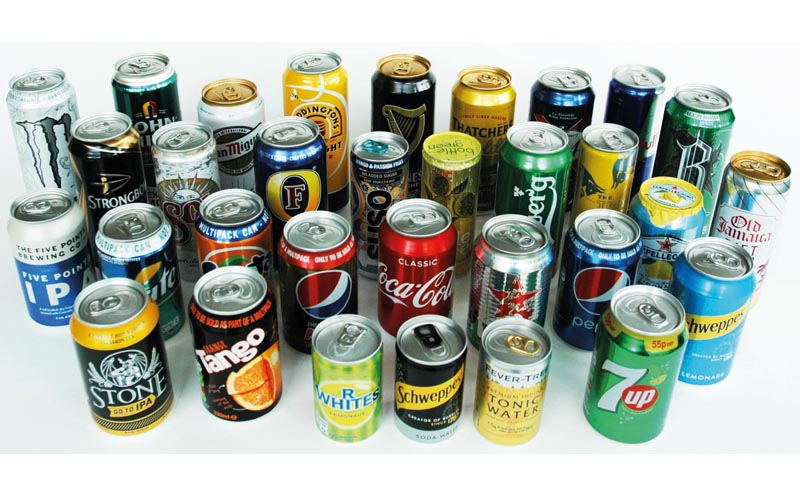 Marcel Arsand, chairman of The Can Makers, tells Packaging Scotland about the benefits of permanently available cans
PACKAGING has a key role to play in helping society to live more sustainably. While the media quite rightly focuses on packaging sustainability and pollution issues, particularly with regards to plastic, some of the unsung heroes of the packaging world are not receiving the attention they deserve. The mainstream debate fails to highlight that a circular economy is within our grasp, if we concentrate on more environmentally sustainable alternatives that will make a long-term difference.
Fuelled by BBC's Blue Planet II, recent media attention has rightly focused on the impact of micro-plastics and single-use plastics, including straws, caps, and bottles on the world's rivers and oceans. The response to increased awareness of plastic pollution has shown just what's possible. The European Parliament has recently voted to ban single-use plastics by 2021 and  in the UK the 2018 Budget announced that the government will introduce a tax on plastic packaging (subject to consultation) with less than 30% recycled content.
Noticeable by its absence from the packaging sustainability debate, is the role of a ready-made packaging solution that has sustainability at its core – namely the aluminium drinks can.
Cans are perfect for the circular economy
The primary objective for manufacturers, brands and consumers should be the use of sustainable packaging that minimises waste throughout the product's lifecycle. Packaging that can easily, and cost effectively be transformed into new products should always have the edge in the sustainability debate. This recycling loop is a foundation for the circular economy – where materials are continuously re-used. The aluminium drinks can is a perfect example of this process in action.
Metal, particularly aluminium, has been a recycling leader for decades, largely because it's a valuable material that can be reprocessed infinitely, without any loss of structural integrity. The success of recycling aluminium is down to its high intrinsic value, making the collection, separation and recycling of drinks cans financially advantageous and self-sustaining (MetalMatters). Even more persuasive is the fact that a used aluminium drinks can that is collected and recycled can be back on the shelf in as little as eight weeks (Alupro, 2017). This is sustainability at its finest and helps explain why the aluminium packaging industry has been investing to increase recycling rates for decades.
A material's sustainability is reflected by its recycling rate, with drinks cans officially recognised as the world's most recycled drinks container. Last year's study by RRS established a global weighted average recycling rate for aluminium as 69% compared to PET at 43% and glass at 46%.
We're already achieving an impressive recycling rate of 72% for drinks cans in the UK and we are on track to not only meet but exceed government targets (Alupro, 2017). The European Commission's Circular Economy Package (CEP) has set an overall packaging waste recycling target of 75% by 2030 and an aluminium packaging recycling target of 85% by 2030. But we know we can do more so the industry has set its own targets of achieving an 80% recycling rate by 2020, with Alupro believing we can reach 85% in two years. This is all great news for the environment and the economy.
Recycling – stepping up a gear?
Recycling of materials has long been an important part of reducing waste, with local authorities seeking new ways to fund waste collections whilst increasing recycling rates. The latest recycling initiative being discussed is a deposit return scheme (DRS).
Independent research commissioned by Alupro, which has represented the UK's aluminium packaging industry for over 25 years, suggests a DRS will only deliver a modest increase (4%) in the total aluminium recycled over the growth forecast from existing schemes (Achieving an 85% Recycling Rate by 2020). The impact of a potential DRS on recycling rates in the UK remains to be seen, but our industry will continue to invest in successful kerbside collection and on-the-go recycling infrastructure (MetalMatters and Every Can Counts) which contributes to both recycling rates and local authority finances – last year to the tune of an estimated £75 million (Alupro).
The time is ripe for a large scale move towards a readily available, proven and sustainable packaging solution that minimises waste throughout its lifecycle. Manufacturers, brands and retailers have an opportunity to choose their drinks packaging wisely – not just to limit environmental damage but also to protect their brand's reputation.